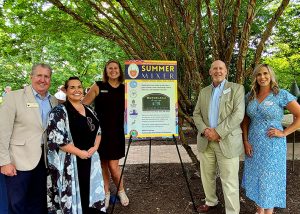 On Tuesday, June 21st the Salisbury Area Chamber of Commerce, Crisfield Area Chamber of Commerce, Fruitland Chamber of Commerce, Ocean Pines Chamber of Commerce, Pocomoke Area Chamber of Commerce, Snow Hill Area Chamber of Commerce, and the Wicomico East Side Chamber of Commerce gathered at the beautiful Bordeleau Vineyards & Winery for the first-ever Lower Shore Chamber of Commerce Summer Mixer. The sold-out event offered a unique opportunity for business leaders to network and share ideas with fellow Lower Shore business professionals.
Guests sipped on delicious Bordeleau Vineyards & Winery's wine and beer, took in the beautiful view of the vineyard, and sampled tasty appetizers provided by Flannery's, Billie Jo's Catering and How Sweet It Is. Over a dozen door prizes were donated from each of the participating chambers and a few of their business members. It was a great opportunity for members to experience the offerings from businesses of our neighboring chambers of commerce.
Bordeleau Vineyards & Winery, is nestled along Wicomico Creek, just south of Salisbury, Maryland. The name Bordeleau, French for "The Water's Edge," was chosen to reflect not only the distinctive environment where they hand-harvest grapes, but also the favorable climate similarities to the Bordeaux region of France.    Bordeleau is open year-round, and visitors can enjoy up to 20 wines.  Guest can sample wines by visiting the Tasting Room with indoor and outdoor seating, join the Loyalty Program or join their Wine Club.
Many thanks to owners Tom and Lisa Shelton, coordinator Melissa Burns, and the leaders and staff of the participating Lower Shore Chambers of Commerce for making this first-time event a huge success!
Visit the beautiful Bordeleau Vineyards & Winery at 3155 Noble Farm Rd, Eden, MD 21822 or check out their website at www.bordeleauwine.com.