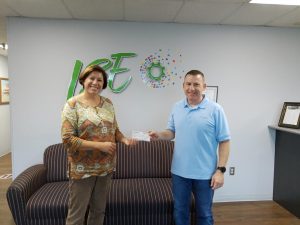 David Bernstein was born in Pennsylvania, but grew up in Chincoteague, VA. Manufacturing was in his family's blood. His father operated a garment factory there as well as others in Crisfield, Pocomoke City and Tangier Island. His brother went on to found K&L Microwave in 1970. David began working for his brother's firm in the mid-1970s and retired in 2002 as K&L's vice president of operations.
LSE has a long standing relationship with K&L Microwave from doing small parts assembly in house since 2001 to placing contract workers in their manufacturing plant in Salisbury, MD. Currently, K&L Microwave employs three LSE participants full time.
Alice Bernstein was born in Chincoteague, and was a member of St. Andrew's United Methodist Church in Salisbury for many years. When she lived in Chincoteague, she hosted ladies' Bible studies and was involved in other ministries.
In an effort to continue their commitment to the local community, the Bernstein's gifted LSE with a generous donation. "After speaking with the family, it was clear of their strong interest in supporting quality, compassionate employees as well as excellence in services for people with disabilities in the area." says LSE Executive Director Ivy McIntyre. "Retaining quality employees who are trained to provide a safe environment that fosters growth in employment and life skills were at the top of the priority list for the family."
For over 50 years, Lower Shore Enterprises (LSE) has successfully supported individuals with disabilities from Dorchester, Somerset, Wicomico and Worcester Counties with training for and securing employment in the community. The goal is to find productive employment for all who desire it, thereby creating the opportunity for the individuals served to increase confidence, gain