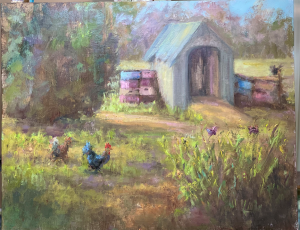 On Friday, June 25th, and Saturday, June 26th, the Lower Shore Land Trust (LSLT) will hold their first-ever Garden Tour. The tour will be self-guided and cover nine Pollinator-Friendly gardens across Maryland's Lower Eastern Shore. During this time they will also be selling raffle tickets for "Beehives and Butterflies" an original oil painting by local artist Laura Jenkins. The painting conveys the artist's eye for color and love for nature and is valued at $750.
"I was very fortunate to be born into a family that loved art in all forms; from the written word, to dance to painting. I paint in oils and my work embraces the beauty of the landscape that I am so fortunate to be surrounded by. I am drawn to the dramatic light that illuminates the fields and marshland. I was so honored to be asked by the Lower Shore Land Trust to create the artwork for this incredible event that will highlight and educate the participants on the importance of pollinator gardens. The work that Kate Patton and her team do is so very important. My hopes are that everyone will support this wonderful event." Said Jenkins.
This inaugural event will support efforts to increase pollinator habitat, promote the use of native landscaping, raise awareness for the benefits of pollinators and promote the LSLT Pollinator Certification Program. Featured gardens reflect a variety of garden styles beneficial to butterflies, pollinating insects and birds.
Raffle tickets are $20 for one or three for $50, tickets for the tour are $25 in advance or $30 day-of. They can be purchased online at www.lowershorelandtrust.org. For sponsorship opportunities or more information call 443-234-5587 or email info@lowershorelandtrust.org.
Special thanks to this year's sponsors Chesapeake Bay Trust, Laura Jenkins, Baked Dessert Café, Eastern Shore Forest Products, Goody Hill Sand and Gravel, Rural Maryland Council, John and Jenny Bauer, Church Mouse Thrift Shop, Assateague Island Surf Shop, Ayers Creek Adventures, Bruder Hill and Bruder Home, Nancy Howard, Inland Bays Garden Center, and Mother Flowers.
The Lower Shore Land Trust is a nationally accredited 501(C)(3) nonprofit that is dedicated to preserving rural lands, promoting vibrant towns, and to building a healthier and more connected Eastern Shore.