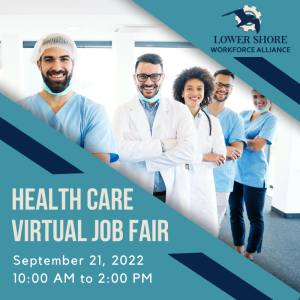 Salisbury, MD- The Lower Shore Workforce Alliance (LSWA) will be hosting a Health Care Virtual Job Fair using an online recruitment platform provided by Premier Virtual.
The job fair will be held on Wednesday, September 21, 2022, from 10:00 AM to 2:00 PM.
The virtual job fair remains free for employers in the Lower Eastern Shore area and job seekers looking to work in the region. Registration for both employers and attendees is required through the Premier Virtual platform.
The Health Care Virtual Job Fair provides a great opportunity for employers to chat with job candidates, conduct video interviews, and/or schedule follow-up, in-person interviews. Jobs will include a variety of health care provider and support positions.
Though the job fair will be hosted online, participants can upload their resumes and should dress appropriately to meet with recruiters and hiring managers in video interviews.
To participate, employers should register at https://pvapi.premiervirtual.com/s/djlo3W. Job seekers register at https://pvapi.premiervirtual.com/s/dq6aJx.
For more information about this event, contact David Noonan at 410-341-3835, ext. 1103 or dnoonan@lswa.org.