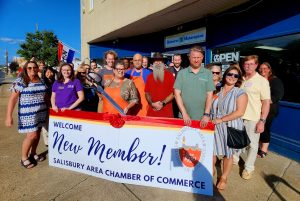 The Salisbury Area Chamber of Commerce welcomed M4Reactor/Delmarva Makerspace to its' membership with a ribbon cutting that was held on Tuesday, September 19th at their versatile location located at 307 N Salisbury Blvd in Salisbury, MD.
President, Heather France-Kelly and her team of nine volunteers (present) welcome the attendees and offered very informative tours of the entire facility.  "This is a place where people join and have access to tools if they would ever need to make something.  They come in with specific projects or because they want to learn a specific equipment.  This place has many opportunities, it is always very hard to explain who we really are, but you come in and see what you can create it changes their perspective.  Moving forward we are going to need the help of the community to help us get more members, get our name out there.    We have a lot of space and tools, but at this time we are limited in the number of hours we open.  Keep in mind we rely 100% on volunteers to operate this space!  Tell everyone who we are and what we do."
The first of its kind on the Eastern Shore of Maryland and operated in full by volunteers, M4Reactor/Delmarva Makerspace, is a collaborative learning environment and community space where everyone can discover and learn to operate new technologies such as 3D printing, robotics, wood lathe, red and blue laser cutting and much more!   If you have a project in mind, but don't have the tools, this is the place to visit!
Guests enjoyed appetizers and beverages provided by Abbotts on Broad Creek, Sub Runners, Roadie Joe's, Flamingo Road Cookie Company and The Ugly Pie.   Door prizes included Maryland themed Christmas tree ornaments made at the shop, and a beautiful wooden Salisbury sign.
To learn more about M4 Reactor/Delmarva Makerspace, or to become a volunteer, visit them at www.m4reactor.org