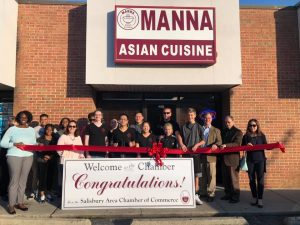 Manna Asian Cuisine commemorated their new Salisbury Area Chamber membership and Women's Entrepreneurship Week with a ribbon cutting on Wednesday, October 17. Owners Nicole Lin and her husband Jackie Chen welcomed guests with a beautiful spread of an array of dining options from their menu.
Lin described her journey coming to America from China, and the struggle that would eventually be followed by success.
"It was 2010 when I came here with my family; things changed. We didn't know anything; we didn't have any money. The only jobs it seemed we could do were restaurant jobs. I would wash dishes—anything. The things that I did here—in my country I had never done before."
"In 2015, we came to Salisbury. Our first business was Koto [Japanese Steakhouse], and we lost everything," Lin said, "Except our four kids." Their youngest child is nine months old. She said it was difficult to balance the business and the family, but an opportunity arose.
"One day I came here [Manna] as a customer, and the owner was a very nice lady. We talked a lot. Once I was picking up my husband lunch; he really liked it. She followed me out, and I thought 'I'm pretty sure I paid for it'," she joked.
The owner asked her if she wanted to buy out the restaurant and make it her own. Lin said she returned to Koto to discuss it with her husband.
"In that moment, I looked at him, he looked at me. We didn't say anything; we already knew what we were going to do."
Lin said there was some resistance as a Chinese couple taking over a Korean restaurant, but it subsided.
"We have a lot of people coming back to support us, and we've had a lot of new customers. We love Salisbury, and we want to stay here for the foreseeable future."
She said her history mimicked that of many others.
"In a lot of stories, it's the same for a lot of people. We came from China; the previous owner came from Korea. We bought her restaurant because like us she sacrificed her life in a different country for many years with her husband."
She said they kept the name "Manna" as an homage to her. The term manna comes from the Bible, as the miraculous food that supplied the Israelites during their 40-year journey throughout the desert, and it connotates both nourishment and the joining of people together to eat.
Her husband was trained in New York as a sushi chef, and together they have tried to stay true to some menu items, while adding new, such as the popular poke bowl, which is customizable.
City Administrator Julia Glanz was on hand to give her congratulations to Lin and Chen, and mention Women's Entrepreneurship Week.
"It's great to give a shout out to our female business owners," she said, "It's a huge jump for anybody to open a small business—a lot of hard work, sweat, and tears. Thank you to both of you that you've decided to give back in Salisbury. We're excited to have you here."
As a female business owner, Lin said while redecorating the restaurant, she wanted to display something that embodied the spirit of women's strength. The South facing wall of the restaurant is adorned with a vibrant mural of Mu Guiying, a heroine from Northern China's Song Dynasty and the Generals of the Yang Family legends. Mu Guiying is depicted not only a mother and a wife; she was a General in the Song army well into her 80s. Her image is the embodiment of female power, aptitude, talent, and duality.
Glanz also thanked Lin and Chen for feeding volunteers for this year's National Folk Festival, which was held in September. The event rounded out with a citation presented by Maryland Senator Jim Mathias, and a sincere statement from Lin about the city.
"We want to be part of this community," Lin said, "We want to stay here a long time. I don't want to just stay here and then disappear with no one knowing us. We want to help the community, and we want the community to help us when we need help."
Manna Asian Cuisine is located at 1147 South Salisbury Boulevard, Unit 9, in Salisbury, Maryland. For more information about their business, visit mannaasiancuisine.com, or call 410-742-4829.