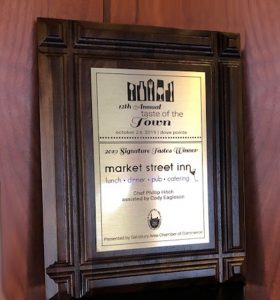 On Thursday, October 24, 2019, hundreds of Delmarva foodies flocked to Dove Pointe in Salisbury to partake in the Salisbury Area Chamber of Commerce 12th Annual Taste of the Town, co-hosted by the SACC Young Professionals.
All Lower Shore restaurants were invited to participate in the "Iron Chef" style competition, and had a choice of entering in one of two categories; Signature Tastes represented an upscale, more refined dish and was won by Market Street Inn. The Simple Tastes category represents casual, light fare, and was won by Vittles Catering & Food Truck.
The award was presented to Chef Phillip Hitch, who was assisted at the competition by Cody Eagleson. The two culinary creatives served a Deconstructed Surf & Turf Deconstructed short rib taco comprised of a crispy wanton, braised short rib, avocado mouse, pickled shallot barboca sauce, and micro cilantro.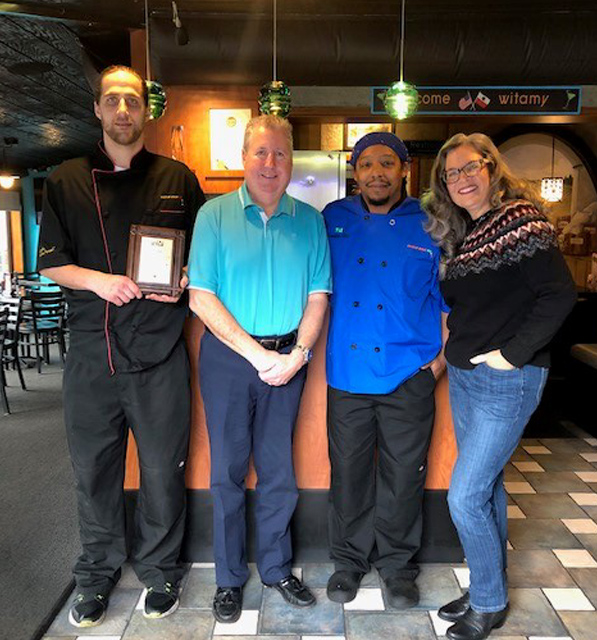 Pictured are Cody Eagleson, Bill Chambers, SACC President & CEO, Chef Phillip Hitch, and LeVita Bragdon, SACC Events Manager.
The 13th Annual Taste of the Town will be held on October 22, 2020 at Dove Pointe in Salisbury, MD. For more information of participating or becoming a sponsor, contact LeVita Bragdon at 410-749-0144 or lbragdon@salisburyarea.com