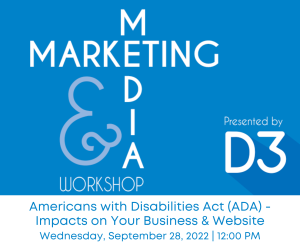 ADA – Three powerful letters that WILL impact your business and your website.
The Americans with Disabilities Act (ADA) is a regulation that ensures that places of public accommodation are accessible to people regardless of ability. Many business owners take this into account when building or purchasing a physical location but may overlook it when it comes to their website.
Does this apply to your business? (the answer is yes)
What does an ADA complaint website look like?  What are the risks of not having an ADA compliant site?  What steps can you take so your website meets ADA standards?
To get these answers and more on keeping your business ADA compliant, join the Salisbury Area Chamber of Commerce and the experts at D3 Corp. for the next Marketing & Media workshop on September 28th at noon.
Registration is required at www.salisburyarea.com. Once registered, you will receive a ZOOM meeting link.