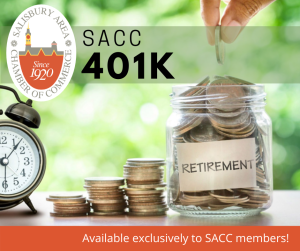 What Businesses Need to Know About the New Mandate
One of the core responsibilities of the SACC is helping members understand the options available for their benefit programs, such as retirement planning.
The SACC is committed to providing members the right solutions for your businesses—solutions that bring our members economy of scale, show clear value for money spent, save time, help reduce risk, and help you show your employees that you value what matters to them.
Join us on Wednesday, November 16, from 5:30 to 6:30 PM at Adam's Taphouse Grill, 219 N. Fruitland Blvd, Fruitland, MD 21826 for light fare and an overview of Maryland $aves and the Maryland Retirement Plan Mandate.
You'll learn how to determine the best type of retirement plan for your unique situation in a cost-effective way, learn more about the SACC 401(k) Program; and learn about tax credits.
The Maryland $aves program was officially rolled out in September 2022 as an initiative to help boost employee retirement savings. All for-profit and not-for-profit employers in Maryland that use a payroll service must begin offering their employees the opportunity to participate in the state-sponsored program or offer a retirement plan on their own.
The SACC partners with Lincoln Financial Group to provide a retirement plan known as a Multiple Employer Aggregation Plan. Participation in the MEAP is only available to Chamber members and offers significant savings in fees and expenses and compliance to companies with as few as 1 employee.
Presenters included Steve Smith, Pilot Financial, at 410-251-6907, email Stdsm652@gmail.com; K. Jill Hall and Jenna Drewer, Landmark Insurance & Financial Group, 410-651-2110 or email kjhall@securitiesmail.com; and Denise D'Antuono, Lincoln Financial Group.
This event is FREE. Advanced registration is required at salisburyarea.com.
Jill Hall, CFP, MBA, Landmark Insurance & Financial Group