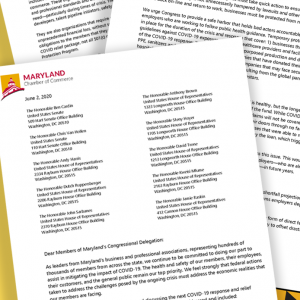 On Tuesday, June 2, 2020, Governor John Carney announced that Phase 2 of Delaware's economic recovery would become effective at 8 a.m. Monday, June 15.
Governor Ralph Northam also announced that on June 5, Phase 2 would begin for many Virginians.  Accomack County will be able to move into Phase 2, while Northern Virginia, Richmond, will remain in Phase 1.
As we enter week 12 of the COVID 19 pandemic, the number of Maryland hospitalizations, intensive care unit beds in use, and positivity rates on tests have all been dropping. In response, Maryland Governor Larry Hogan indicated that he might soon be easing restrictions, lifting his executive order closing so-called non-essential businesses.
While that is good news, Maryland businesses will continue to face steep economic challenges.
The Maryland State Chamber, The Salisbury Area Chamber of Commerce, and Chambers of Commerce across the state sent a letter to Maryland Congressional leaders regarding the fourth round of relief needed due to the COVID-19 pandemic.
Representing hundreds of thousands of business members from across the state, Maryland's Chambers of Commerce are committed to assisting in mitigation of the impact of COVID-19. We feel strongly that federal actions taken to address the challenges posed by the ongoing crisis must address the economic realities that our members are facing.
The proposed CARES Act 4, now being negotiated in the U.S. Senate, is essential in helping Maryland businesses recover by retaining jobs, keeping businesses open, providing legal liability protections, assistance to all nonprofits, and prevent local governments from laying off state and local employees.
The Salisbury Area Chamber of Commerce will continue our collective efforts with our statewide partners to represent the interest of all hardworking Maryland families.
DOWNLOAD THE FULL CONGRESSIONAL LETTER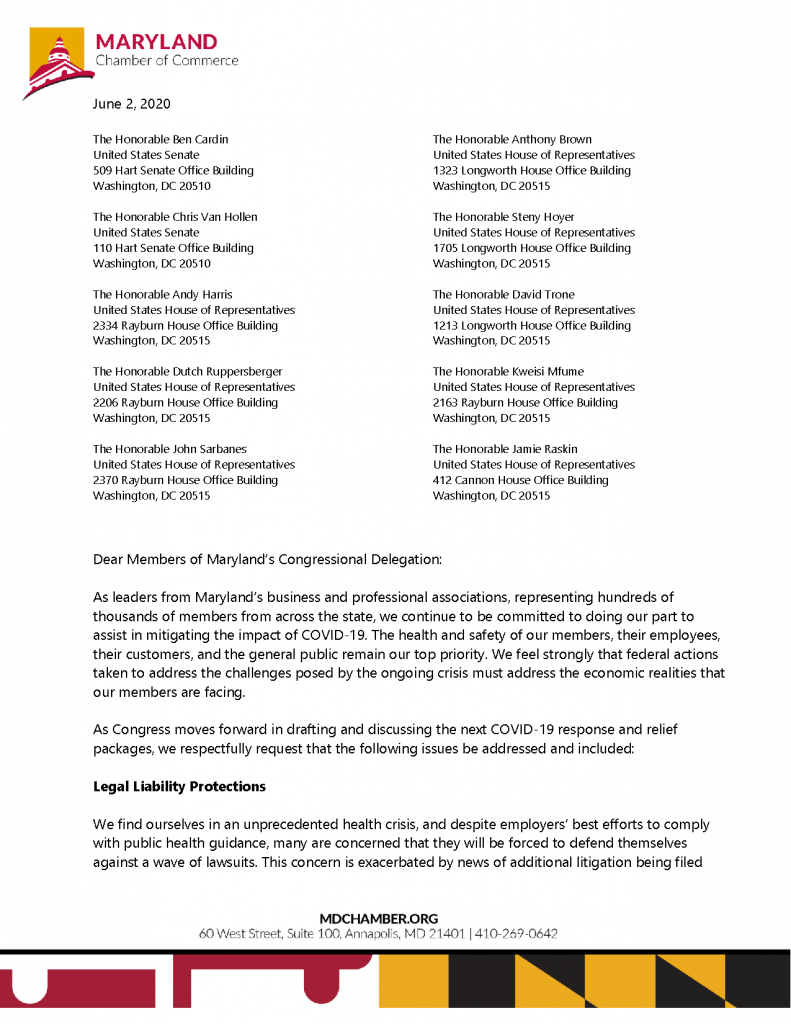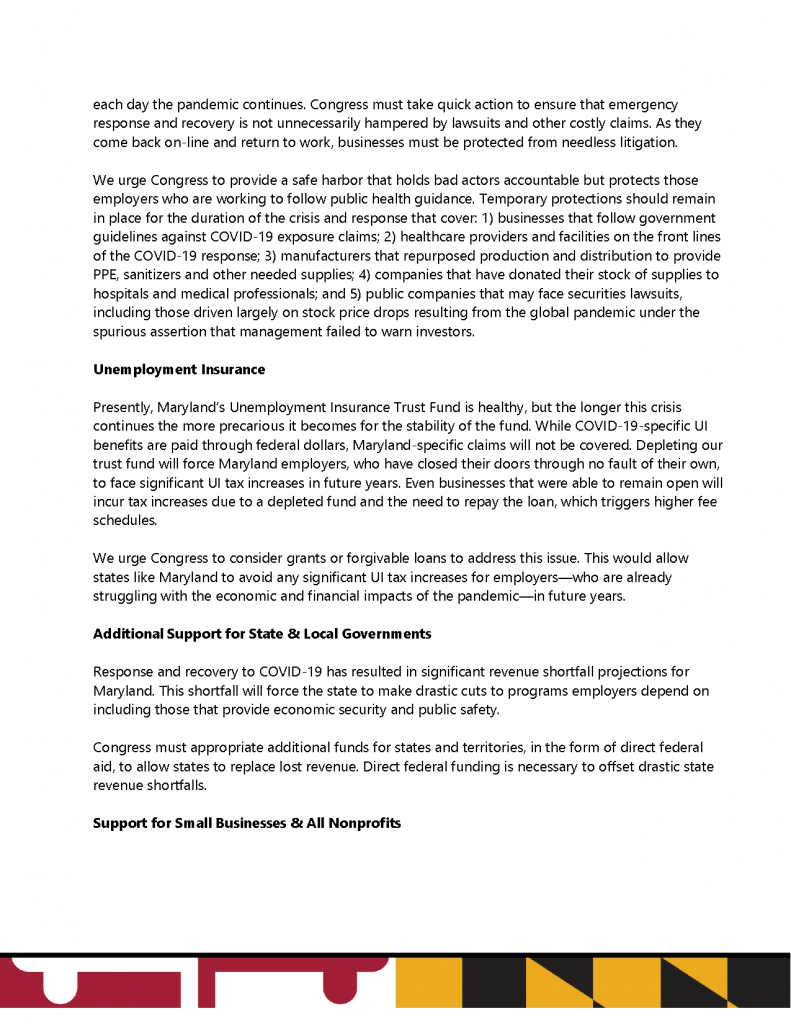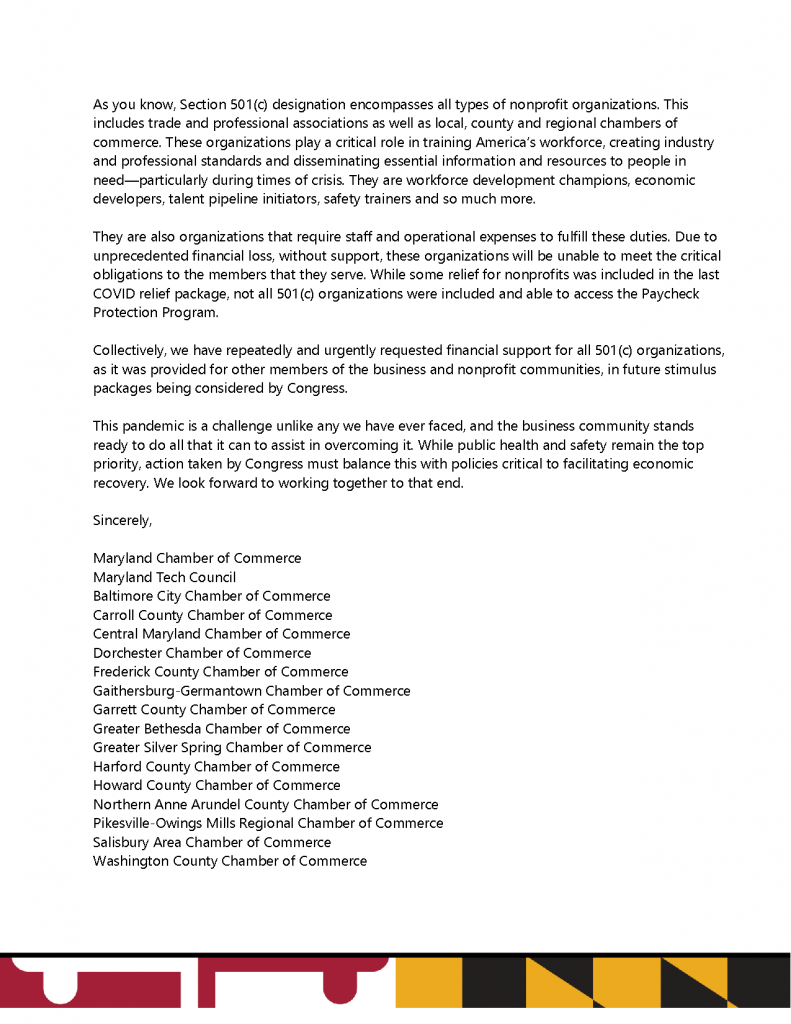 Maryland Chamber of Commerce
Baltimore County Chamber of Commerce
Maryland Tech Council
Baltimore City Chamber of Commerce
Carroll County Chamber of Commerce
Central Maryland Chamber of Commerce
Dorchester Chamber of Commerce
Frederick County Chamber of Commerce
Gaithersburg-Germantown Chamber of Commerce
Garrett County Chamber of Commerce
The Greater Bethesda Chamber of Commerce
Greater Silver Spring Chamber of Commerce
Harford County Chamber of Commerce
Howard County Chamber of Commerce
Northern Anne Arundel County Chamber of Commerce
Pikesville Owings Mills Regional Chamber of Commerce
Salisbury Area Chamber of Commerce / Salisbury, MD