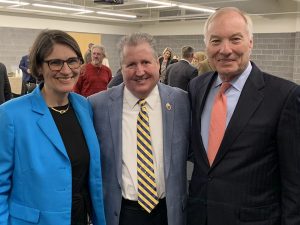 On Friday January 10, 2020, the Salisbury Area and Crisfield Chambers of Commerce hosted a joint luncheon featuring Maryland Comptroller Peter Franchot. The event took place at the new J.M. Tawes Career & Technology Center in Westover, Maryland.
Franchot is currently in his fourth four-year term as Comptroller, the state's tax collector. On January 9, 2020, he officially declared his candidacy to run for the Governor of Maryland in the 2022 election.
The Comptroller toured the school and noted, "I can't wait to see how these tech programs and training opportunities will equip students for future employment."
Referencing the massive highway widening project slated for the Capital Beltway and I-270, he joked that when graduates are looking for work in the construction industry, they should give him a call.
During his remarks, Franchot discussed a variety of issues that impact business. He spoke at length regarding public-private partnerships and what he considers the proper position for the public sector to promote economic reform. "The government should not stand in the way of innovation and entrepreneurship."
Franchot took questions from the audience, including a concern about the likelihood of an economic slow-down. He commented that "At some point, we're going to have to pay the piper, so we need to be prepared."
Following the joint luncheon, Franchot met with members of the Crisfield Arts Syndicate, Somerset County Arts Council and the Crisfield Arts and Entertainment District to discuss how these organizations are contributing to economic development efforts in Crisfield through the arts.