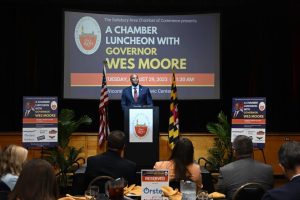 The Salisbury Area Chamber of Commerce welcomed Maryland Governor Wes Moore on Tuesday, August 29th, at a special luncheon at the Wicomico Civic Center in Salisbury. More than two hundred fifty business, organizational, and governmental leaders gathered in the Midway Room to welcome Governor Moore to the Eastern Shore of Maryland.
The SACC President/CEO Bill Chambers opened by introducing Bennett Middle School Vice Principal Johanna Duncan, who announced the return of Middle School sports to Wicomico's public schools. Her message included a call to action for area businesses to sponsor a middle school sports team, a great way to support the return of these sports programs.
Dr. Heidi Anderson, President of the University of Maryland Eastern Shore, formally introduced Governor Wes Moore.
"Governor Moore is the 63rd Governor of the state of Maryland. He is Maryland's first Black Governor in the state's 246-year history and is just the third African American elected Governor in the history of the United States."
Governor Moore enthusiastically shared, "I am proud to report that in my first seven and one-half months in office, we have created thirty-one thousand new jobs in Maryland. I believe we can build a team to make Maryland better."
"We have made historic investments in higher education in our state to include those institutions here on the eastern shore."
Commenting on the 2023 Maryland General Assembly Session, his first as Governor, "My administration introduced ten bills, and all ten passed with bi-partisan support."
"Moving forward, I need your ideas and collective goals over the next three years. We can be bold, make big investments, and remain fiscally responsible."
The Governor thanked the audience for their warm welcome and looked forward to future visits to the shore.
The SACC wishes to thank Governor Moore and sponsors Chesapeake Utilities, Delmarva Power, Mountaire Farms, Ørsted, Perdue Farms, Salisbury University, and the University of Maryland Eastern Shore.
Complete video coverage of the event will be available at https://www.pac14.org/ and additional event photos can be viewed at http://govpics.maryland.gov/.