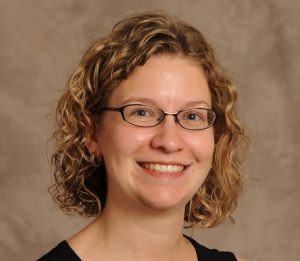 SALISBURY, MD—Dr. Ani Mathers, associate professor of finance at Salisbury University, has been named associate dean of SU's Franklin P. Perdue School of Business.
In addition to teaching financial management and investments in the Perdue School, Mathers has served as the faculty director for SU's Business Honors Program since its inception in 2017.
She also is the faculty advisor for SU's chapter of the Financial Management Association (FMA), as well as former advisor of the University's Student United Way chapter.
"The FMA serves a vital educational role in the Economics and Finance Department, as it exposes students to career and networking opportunities, and engages them with finance outside of the classroom," she said.
"I also believe that students develop leadership and professional skills through work in their community, and that it is important for students to engage with the Salisbury community and give back. The Student United Way is heavily involved on campus and in our local community, and is a great way for students to develop leadership skills.
"I look forward to continuing my focus on students' professional development in my new capacity as associate dean."
"Dr. Mathers is not only an academic leader in finance, but a role model among our students," said Dr. Christy Weer, dean of the Perdue School. "I look forward to the passion and energy she will bring to the Dean's Office in her new role."
In addition to her work at SU, Mathers has published on finance topics in many academic journals, including Financial Management, The Financial Review and the Journal of Financial Research.
For more information call 410-543-6030 or visit the Perdue School webpage at www.salisbury.edu/perdue.