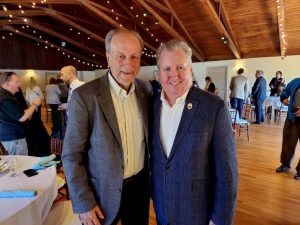 Salisbury Area Chamber of Commerce held its March General Membership Luncheon yesterday at Green Hill Country Club in Quantico, Maryland. Mayor Jack Heath, recently sworn in as the 28th Mayor of Salisbury, was the featured speaker.
Mayor Heath served as the President of the Salisbury City Council before being sworn in as Mayor upon the departure of Mayor Jake Day, who is serving in Governor Wes Moore's Administration.
Mayor Heath told the Chamber audience he had decided not to seek reelection to the City Council. Upon the announcement of Mayor Day's departure, Heath was asked to assume the role of Mayor based on his knowledge, shared vision, and experience as Council President. Mayor Heath commented, "I accepted the challenge and haven't looked back. The City of Salisbury has not skipped a beat."
Mayor Heath outlined his five prime focus areas for his Administration: public safety, the continuation of the "Here is Home" initiative, economic growth, "Vision 0" and access to City Government.
On public safety, Mayor Heath reported that the City Police Department currently has 13 sworn officer vacancies. "We are not alone in officer vacancies. 78% of police agencies nationwide are having recruitment issues."
In addition, Salisbury is facing what Heath characterized as "poaching" by other lower shore departments, offering more money with fewer calls to entice officers.
The "Here is Home" initiative began under former Mayor Day, offering developer incentives to build affordable housing, which the city desperately needs. Mayor Heath is committed to continuing this initiative. "We have extended the time frame for developers to take advantage of this program given that the pandemic set it back eighteen months. Currently, we have 848 housing units under construction in the City of Salisbury."
Mayor Heath spoke of the "Vision 0" outreach, focusing on getting citizen input on "what's important and where do we go as a city. In the coming months, we will ramp this up to solicit more citizen and business input."
The SACC will host the 2023 Maryland General Assembly Post Legislative Session Forum at Wicomico Youth and Civic Center on Thursday, April 20, 2023, at 11:30 AM, featuring the Lower Shore Legislative Delegation.
Register online at salisburyarea.com.
Members – $35
Non-Members – $45
Sponsor Table of 8 – $500