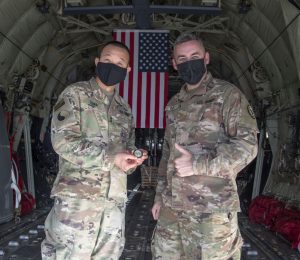 Camp Lemonnier, Djibouti – Salisbury Mayor Jake Day is currently deployed in support of Operation Enduring Freedom as the Deputy Director of Information Operations and Special Technical Operations Chief for Combined Joint Task Force-Horn of Africa (CJTF-HOA). At 0800 East Africa Time on 28 November, 2020, Captain Day was promoted to the rank of Major by CJTF-HOA Commanding General, Major General Lapthe C. Flora. The ceremony took place on a C-130 Hercules, at Freedom Ramp, in vicinity of Camp Lemonnier, Djibouti. The ceremony was attended by dignitaries including Brigadier General Damian T. Donahoe, CJTF-HOA Deputy Commanding General; Command Master Chief Alex Hebert, CJTF-HOA Command Senior Enlisted Leader; Colonel Jennifer Mykins, CJTF-HOA Director of Operations; and Major Lesley Dowdle, CJTF-HOA Director of Information Operations.
Major Day's wife Liz, parents Randy and Debbie Day and City Administrator Julia Glanz joined by Zoom for the midnight (Eastern Standard Time) ceremony.
With 12 years of military service, and on his first combat deployment, Major Day is part of the unit supporting operations in Somalia, providing force protection and crisis response throughout East Africa and building strategic partnership in Djibouti. He is about halfway through his 11-month tour.
For more information on the Combined Joint Task Force – Horn of Africa, visit www.hoa.africom.mil