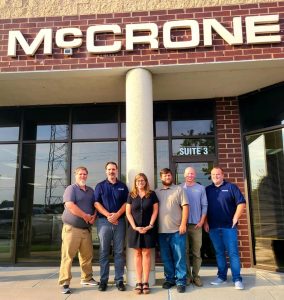 The SACC October Business After Hours was hosted on October 14, 2021 by Chamber member McCrone Engineering.
McCrone is a full service firm, offering engineering, surveying and land planning.
McCrone offers over 84 years of expertise with their corporate headquarters located in Annapolis and branches in Salisbury, Elkton, and Centreville, which also provides print services.
Robert Kane, Professional Engineer and Salisbury Branch Manager, welcomed all of the guests commenting "We are here to celebrate our recent move to the new branch office and the exciting future that awaits, as well as our motivated staff and the clients that supported us through the challenging days of 2020 and 2021."
McCrone is large enough to offer a full range of engineering expertise but small enough to provide personal, customized services according to each client's needs. Their large commercial projects as well as smaller jobs always receive "solution-oriented service and support."
McCrone recently completed a merger with Hartwell Engineering, now offering electrical engineering services, including process control engineering and site electrical design.
"We are also working towards building Electrical Design as a component of a greater MEP (Mechanical, Electrical and Plumbing) package that can be offered by partnering with other firms. It is our goal to have an electrical engineer at every McCrone Branch in the near future," Kane stated.
"We now provide full 3D Point Cloud Scanning Surveys, which not only provides more accurate surveys, but it also allows us to create full 3D models of both your existing and as-built site for planning and marketing purposes."
"Finally, we also offer aerial surveying with state of the art drone technology and a fully licensed FAA drone pilot on staff."
For more information about McCrone Engineering visit www.mccrone-engineering.com.
The November Business After Hours will be hosted by the City of Salisbury on November 10, 2021 at 5:00 PM. For more information on this and all upcoming Chamber events, visit  www.salisburyarea.com.