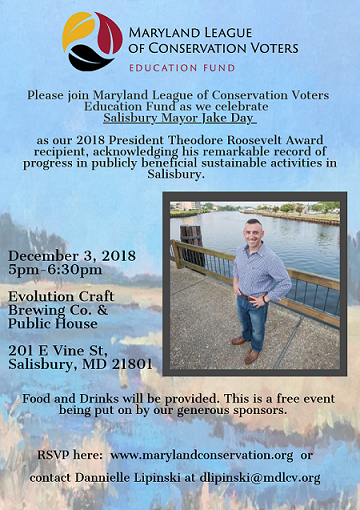 Maryland League of Conservation Voters Education Fund (Maryland LCVEF) today announced that City of Salisbury Mayor Jake Day has been awarded the organization's second annual President Theodore Roosevelt Award, acknowledging his integral role in the ongoing renaissance of the downtown area.
Specifically, the community's notable record of progress in streetscape rehabilitation and building revitalization and reuse were acknowledged, as were river waterfront access and beautification efforts. Further, Salisbury's commitment to the unglamorous but vital work of improving a 100-year-old underground water and sewer infrastructure was key as well.
The President Theodore Roosevelt Award – presented by Maryland LCVEF annually on the anniversary of the birth of President Theodore Roosevelt – recognizes the individual, group, or organization in Maryland who through a specific action, event, or body of work leaves a positive conservation legacy that mirrors the ethos of President Roosevelt.
"It is our honor to present this award to Mayor Day," said Maryland LCVEF Board Chair Chuck Porcari. "Teddy Roosevelt served his community and his country in many forms, as does the Mayor. As the traditional anchor of Maryland's Eastern Shore and the Delmarva Peninsula as a whole, today the City of Salisbury brings with it a spirit of renewal, revitalization, and long-term sustainability that Mayor Day, his team, and the region as a whole can be proud of."
Mayor Day released the following statement:
"What we do here in Salisbury has repercussions well beyond our City limits, and so we strive to provide the best future possible for all of our citizens – in Salisbury, around the Chesapeake, and throughout Maryland – by raising the bar on our commitment to sustainability, conservation, and quality-of-life.
"The Maryland League of Conservation Voters Education Fund has been clearing that bar for years. I am humbled to receive this award and proud of what it represents. President Theodore Roosevelt himself said of our natural resources, 'The ages have been at work on it, and man can only mar it.' It is then our obligation to protect it.
"Whether rebuilding our wastewater treatment plant to become the producer of some of Maryland's cleanest effluent, hiring a full-time sustainability coordinator, introducing curbside cardboard recycling, providing composting at our major events, becoming a USA Bee City and a Sustainable Maryland city, or securing the largest conservation easement inside a municipality in Maryland, we seek to meet our obligation, raise and clear new bars for environmental quality, and set an example that others are eager to follow."
Nominations for the Maryland LCVEF President Theodore Roosevelt Award were actively solicited from all areas of the state, with the winner selected from a pool of a dozen finalists.
# # #
The Maryland LCV Education Fund works to strengthens the Maryland environmental community by growing a base of conservation-minded voters across the state. Through outreach and education, the Education Fund builds grassroots field capacity for legislative advocacy and environmental issue work. A leading environmental organization in Annapolis, we have advocated for smart environmental policies for almost 40 years, working to make Maryland a healthy and prosperous place for families and communities. Maryland LCVEF protects public health by fighting for restoration of the Chesapeake Bay and local waters, preserving green spaces, promoting smarter growth and increasing Maryland's investment in clean energy.