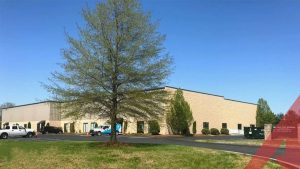 SALISBURY, MARYLAND – March 31, 2021 – Principal Meredith Mears collaborated with Advisor Ned Foster of SVN Miller Commercial Real Estate to sell 45 Engerman Avenue, a +/- 30,000 square foot industrial building located in Denton, Maryland. The transaction was valued at $1.4-million.
"Caroline County is home to a very stable and growing industrial base, yielding promising investment opportunities in real estate connected to manufacturing, logistics and agriculture," said Mears. "Despite the COVID-crisis of 2020, this County has remained robust due to the community commitment of local officials and the demonstrated resilience of the business community."
The Engerman Avenue property was formerly owned by KRM Development, a full-service real estate developer with headquarters in Chestertown, Maryland.
Backed by 20+ years of experience in business and real estate development, Mears is capable of advising clients through even the most complex of transactions. To discuss other investment opportunities, contact Merry@NAICoastal.com or call 410-543-5115.
ABOUT NAI COASTAL
NAI Coastal is a full-service commercial brokerage headquartered at Riverview Commons, 150 West Market Street in Downtown Salisbury, Maryland. The team of nine advisors have comprehensive market knowledge and an unwavering commitment to the Delmarva region. In addition to brokerage and development, NAI Coastal rounds out their service offerings with consulting, which covers leasing, assemblage, acquisition and sale and investment advising. For more information, please visit www.naicoastal.com or call 410-543-5115.
ABOUT NAI GLOBAL
NAI Global is a leading global commercial real estate brokerage firm. NAI Global offices are leaders in their local markets and work in unison to provide clients with exceptional solutions to their commercial real estate needs. NAI Global has more than 375 offices strategically located throughout North America, Latin America and the Caribbean, Europe, Africa and Asia Pacific, with 6,000 local market professionals, managing in excess of $1.15 billion square feet of property and facilities. Annually, NAI Global completes in excess of $20 billion in commercial real estate transactions throughout the world.
NAI Global provides a complete range of corporate and institutional real estate services, including brokerage and leasing, property and facilities management, real estate investment and capital market services, due diligence, global supply chain and logistics consulting and related advisory services. To learn more, visit www.naiglobal.com or www.naiglobalnewslink.com.