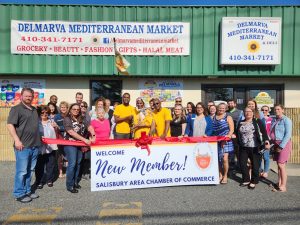 The Salisbury Area Chamber of Commerce welcomed Delmarva Mediterranean Market to its membership with a ribbon cutting on Thursday, May 17, 2023.
Owners Somia and Mohamed Ahmed took advantage of this event to showcase the new expansion of their store, which allows them to better serve the community by increasing the amount of Mediterranean-dried groceries, beverages, halal meat, natural beauty products, fashion/accessories, and much more.
Somia also offers a delightful daily menu with various appetizers, including homemade hummus, baba ghanuouj, falafels, dolma stuffed grape leaves, and labna. Also available are salads, sandwiches full of Mediterranean flavors, and non-alcoholic beverages. Soon to come will be Mediterranean cooking classes to learn.
Somia, Mohamed, and their son and family friend, Rose Shahid, welcomed everyone. Somia shared, "My husband Mohamed worked for the American Embassy, and we relocated to the United States in 2007 from the Middle East with our three young boys. We started thinking about what we could do to establish ourselves when we arrived. This store was Mohamed's idea, I made it like this, but it was his idea, and we opened it in 2009. When we started, we also wanted to help others establish themselves as we did."
Mohamed joined his wife by saying, "We wanted to create a forum where we could share a piece of our culture, through our food, to our community. We started small, and we have kept adding. Thank you to everyone supporting us, our landlord Brett Davis, and the Salisbury Area Chamber of Commerce for allowing us to reach a wider audience."
Guests enjoyed a variety of Mediterranean appetizers and non-alcoholic beverages, and door prizes included beautiful gifts from the store.
Visit Delmarva Mediterranean Market at 1305 South Division St, Suite 19 & 20 in Salisbury, to discover the variety of foods and merchandise available or enjoy authentic, homemade Mediterranean food.