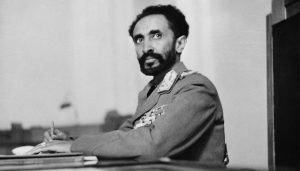 SALISBURY, MD—From 1930-1974, Emperor Haile Selassie was instrumental in reforming Ethiopia.
His great-granddaughter, Emebet Hannah Mariam Meherete-Selassie, discusses his life and legacy at Salisbury University on Wednesday, July 10. Her presentation is 6 p.m. in the Great Hall of Holloway Hall.
A follow-up discussion, featuring a traditional Ethiopian coffee ceremony, is 2 p.m. Thursday, July 11, at Pemberton Coffeehouse, 1100 Pemberton Drive.
The campus event features a reading from Meherete-Selassie's recently released memoir, It Was Only Yesterday, chronicling the emperor's final years in power before Ethiopia's 1974 revolution and her experience in its aftermath.
During his decades as emperor, Selassie established himself as a world leader, condemning the use of chemical weapons before the League of Nations in 1936 and making Ethiopia a charter member of the United Nations.
He was forced from the throne in 1974 following a multi-year famine in northeastern Ethiopia and sudden economic inflation caused, in part, by the international oil crisis. He was killed the next year following a coup d'état.
According to Meherete-Selassie, his departure from leadership ended a 3,000-year-old royal dynasty that traced its lineage to King Solomon and the Queen of Sheba. Today, Selassie continues to be revered as the messiah of the Rastafari faith, which emerged in Jamaica during the 1930s.
During the uprising, Meherete-Selassie fled to the United Kingdom while her family was imprisoned. After the "Red Terror" political purge that followed, she gave up hope of returning home or seeing her family again. She crisscrossed three continents while overcoming the hardship, eventually establishing a new life in the U.S.
Sponsored by the SU History Department, Honors College and Fulton Public Humanities Program, and Pemberton Coffeehouse, admission to her presentation and discussion is free, and the public is invited.
For more information call 410-543-6373, email Dr. Joe Venosa at jlvenosa@salisbury.edu or visit the SU website at www.salisbury.edu.