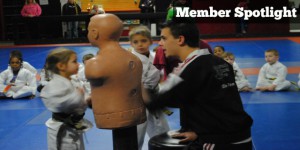 Focus. Discipline. Confidence. Respect. Along with physical fitness, these are just a few of the core values instilled by martial arts training.
For many, the term martial arts conjures up images of cage fights or kickboxing bouts, but the reality is mixed martial arts has referred to a lifestyle rooted in self-control and calmness for much longer than it has been a competitive sport on television.
Located here in Salisbury, in the largest skating rink on the Eastern Shore, is one of the biggest martial arts schools in the entire country. Mitchell's Martial Arts, found at 1305 S. Division St., has been "Changing Hearts, Changing Minds, and Changing Lives" since 1996. The backbone of the Mitchell's program, American Kenpo Karate, is a practical system of self-defense that relies on quick hand actions, low kicks, and natural body movements. American Kenpo Karate teaches balance, eye-hand coordination, concentration and other tools that increase the well-being of students and allow them to defend themselves should trouble arise. Although American Kenpo is a physical discipline, it was founded on the premise that fighting and confrontation are last resorts, and is, instead, designed to empower yourself and those around you.
The instructors at Mitchell's pride themselves on imparting essential life skills that kids may not learn elsewhere, so it comes as no surprise that many students go on to achieve great things. Not only are 95% of kids in advanced programs honor roll students, but Mitchell's graduates have become Eagle Scouts, received academic scholarships, and gone on to fill leadership positions. Mitchell's is currently gearing up for its back-to-school programs, which feature a variety of physical and educational training programs, including transportation to and from schools throughout Wicomico County and surrounding areas like Princess Anne, and Delmar.
While Mitchell's is ideal for giving kids a strong foundation on which to build their futures, the training programs benefit students of any age. Adults can work to improve their fitness and master important life skills, but also learn to keep themselves from being a victim. From threat awareness to safety assessments to self-defense, if you want to protect yourself and loved ones, Mitchell's can teach you how.
Mitchell's Martial Arts may be one of the leading martial arts institutions on the East Coast, but there is much more offered at the nearly 40,000 sq. ft. facility. In addition to martial arts programs for all ages and skill levels, and an enormous skating rink, Mitchell's also features a full gym with free weights, cardio machines, and kettle balls; group fitness classes, such as Zumba, a gymnastics center; licensed daycare providers offering before school, after school, and all day services; an outdoor playground; classrooms for doing homework; and a party room for birthdays and special occasions.
All members have access to Mitchell's wide array of programs and services, and group discounts are available for businesses and community organizations. Prospective members are invited to attend two free introductory classes to learn the basics and see how martial arts training can have positive impacts on their lives.
To learn more about Mitchell's call 410-341-3333, or visit them at www.mitchellsmartialarts.com.
By: Anthony Towey
"A native of the Eastern Shore, Anthony came to Salisbury in 2003, attending Salisbury University and studying American and local history during both college and grad school. He is currently the Senior Writer and Editor for the StateVentures network of sites, which includes OceanCity.com, Annapolis.com, Maryland.com and WallopsIsland.org, and a monthly contributor to sbybiz.com."