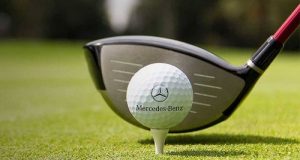 Mercedes-Benz Dealer Championship Glen Riddle Golf Club
Sunday, August 18th, 2019
Man O'War Course 11501 Maid at Arms Lane, Berlin, MD 21811
Registration: 8:30AM    |    Shotgun Start: 9:00AM
For this year's Mercedes-Benz Event at GlenRiddle, each player must have an established USGA handicap. The format we are going to use this year is "2-Person Best Ball." In this format, teams are comprised of two golfers. Those two golfers play their own golf balls throughout, and the lower score between them, on each hole, counts as the team score. Handicaps are applied in Best Ball format to each golfer individually at 90% according the USGA Handicap Allowances For Multi-Ball Team Events.
The Man O'War Course occupies the westerly portion of Glen Riddle. The course features pure, windswept links golf. The golfer faces challenges often found in the British Isles including large greens, double fairways, pot bunkers, sand dunes, and the ever-present eastern shore winds. The historic racetrack used to train champion thoroughbreds is utilized as a strategic cross hazard on three holes. The Man O'War Course plays 7,163 yards and a par of 72 from the rear trees.
1 Grand Prize – 2 Champions
Eastern & Western Nation Final
Pinehurst Resort, Pinehurst, NC
We are pleased to announce the Eastern and Western National Final will be hosted at Pinehurst Resort in North Carolina at the end of October. Two winners from this tournament will advance to either the Eastern or Western National Final depending on the location of the dealership.
www.pohankamercedesmd.com/golf
Mercedes-Benz of Salisbury
ATTN: Conrad Morgan 2013 N Salisbury Blvd Salisbury, MD 21801