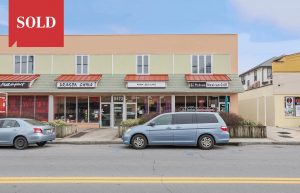 SALISBURY, MARYLAND – November 24, 2020 – Advisor George Merritt recently participated in the sale of an investment property in Baltimore County, Maryland. The +/- 15,000 square foot property is comprised of 25 individual office/retail units and is located at 6423-6425 Frederick Road in Catonsville, Maryland.
Merritt's investor client recognized an opportunity after the property went through an unsuccessful auction process. After the auction, Merritt approached the seller, Esworthy Properties, and collaborated with their representative, Nicholas Luciani of Alex Cooper Auctioneers, to successfully negotiate a contract on behalf of his client.
The property, which was purchased by Catonsville Properties, LLC, is fully leased and home to several strong and reputable regional tenants. The investment traded for $2,025,000, yielding a 10% rate of capitalization.
"When putting together an investment deal, I always have my clients' best interests at heart," said Merritt. "I was onsite in Baltimore several times to ensure that this property would be a stable and solid investment for my client and would provide upside potential capable of withstanding any economy."
For information on investment properties on the Delmarva Peninsula and beyond, contact George@NAICoastal.com or call 410-543-5115.
NAI Coastal is a full-service commercial brokerage headquartered at Riverview Commons, 150 West Market Street in Downtown Salisbury, Maryland. The team of ten advisors have comprehensive market knowledge and an unwavering commitment to the Delmarva region. In addition to brokerage and development, NAI Coastal rounds out their service offerings with consulting, which covers leasing, assemblage, acquisition and sale and investment advising. For more information please visit www.naicoastal.com or call 410-543-5115.
ABOUT NAI GLOBAL
NAI Global is a leading global commercial real estate brokerage firm. NAI Global offices are leaders in their local markets and work in unison to provide clients with exceptional solutions to their commercial real estate needs. NAI Global has more than 375 offices strategically located throughout North America, Latin America and the Caribbean, Europe, Africa and Asia Pacific, with 6,000 local market professionals, managing in excess of $1.15 billion square feet of property and facilities. Annually, NAI Global completes in excess of $20 billion in commercial real estate transactions throughout the world.
NAI Global provides a complete range of corporate and institutional real estate services, including brokerage and leasing, property and facilities management, real estate investment and capital market