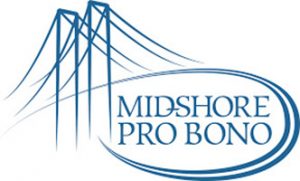 Mid-Shore Pro Bono offers a free legal clinic that serves residents of the Lower Shore who are unable to pay for attorney services on their own.
Residents with legal issues such as foreclosure, consumer debt/Bankruptcy, small estate administration or seeking to obtain simple wills, powers of attorneys or advance medical directives can call to schedule an appointment for a free 30 minute legal consultation.
For a complete list of upcoming clinics, please go to FREE LEGAL CLINICS.
Individuals in need of legal services should contact Mid-Shore Pro Bono's Salisbury Office 410-829-0394 or the Easton Office at 410-690-8128 or info@midshoreprobono.org.