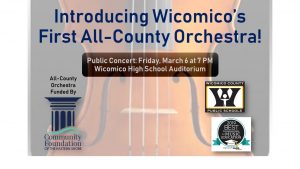 Talented strings players from Wicomico's middle and high schools have been selected by competitive audition to the very first Wicomico All-County Orchestra, sponsored by the Community Foundation of the Eastern Shore as a showcase for string education and performance in Wicomico Schools.
Over the past 10 years, Wicomico County's string program has grown to include orchestra programs at every middle and high school as well as beginner string programs in almost all elementary schools. The number of students participating in the strings program has also increased dramatically. With this exciting progress, it was decided that an All-County Orchestra would be a wonderful opportunity to celebrate and showcase the school system's top orchestra musicians.
On Saturday, Jan. 18, the Wicomico County orchestra directors held an audition day, with middle and high school string musicians vying for a spot in the All-County Orchestra. Those selected will gather on Friday, March 6 for a full day of rehearsals led by collegiate orchestra conductor Dr. Peter Isaacson. A public concert will take place at 7 p.m. that evening in the Wicomico High School Auditorium. Admission will be $4 at the door and all proceeds will go toward funding the All-County Orchestra the following year, so that students can participate at little or no cost.
Wicomico County Public Schools is proud to be a NAMM Foundation "Best Communities for Music Education," a distinction earned for 10 of the past 13 years. Initiatives like the All-County Orchestra, led by Orchestra Director Courtney Coco, will spark new collaboration between the teachers, students, families and community.
Auditions were very competitive and the orchestra directors are extremely proud of all students who came to try out. Congratulations to all of the students who earned a spot in the first All-County Orchestra!
Section Leaders: These musicians had the top scores in the auditions, and will sit at the very front of the ensemble to lead their peers:
James Hsia, Violin 1, Parkside High
Simon Jeong, Violin 1, James M. Bennett High
Anna Long, Violin 2, James M. Bennett High
Andrea Chen, Violin 2, Bennett Middle
Josie Sollars, Viola, James M. Bennett High
Eleanor Flores, Viola, Mardela High
Alexzander Baer, Cello, Mardela High
Cedrick Jung, Cello, Salisbury Middle
Adan Thomas-Mason, Bass, James M. Bennett High
The rest of the All-County Orchestra, in alphabetical order by section:
Violin 1
Grace Acle, James M. Bennett High
Akkad Alzayady, Salisbury Middle
Cristina Avanessian, James M. Bennett High
Riley Bozman, James M. Bennett High
Alexis Cottman, Mardela High
Gracie Elswick, Parkside High
Kelsey Flores, Mardela High
Ellie Long, James M. Bennett High
Eduardo Minchala, James M. Bennett High
Megyn Nguyen, Bennett Middle
Kirsten Parsons, Wicomico High School
Abigail Shockley, Mardela High
Brianna Truitt, Bennett Middle
Violin 2
Sarah Augustin, James M. Bennett High
Zoe Boyd, Bennett Middle
Roxanne Chow, James M. Bennett High
Lauren Collins, Salisbury Middle
Marleigh Curran, Salisbury Middle
Rhianna Denaque, Bennett Middle
Katelyn Ford, James M. Bennett High
Melissa Galindo-Torres, Salisbury Middle
Laynie Lopez, Pittsville Middle
Mackenzie Triplett, Mardela Middle
Olivia Wheatley, Mardela High
Violin 3
Bry'an Brown, Wicomico High
Jordis Davis, Wicomico Middle
I'naka Hudgins, Wicomico High
Naphtalie Orneus, James M. Bennett High
Viola
Kaylie Hupke, Mardela Middle
Wayne Slate, Wicomico High
Cello
Makayla Bounds, Mardela High
Chris Howard, Salisbury Middle
Brady Morrison, Wicomico High
Bass
Joshua Dartilus, Wicomico Middle
Allie Jimmerson, Bennett Middle
Ava Streng, Salisbury Middle