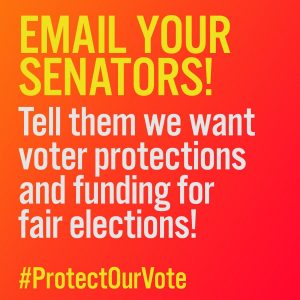 We have witnessed during COVID-19 the passage of several Federal stimulus
packages designed to protect the health and safety of our communities, support
our economy from collapse and ensure that every voter has the ability to cast a
ballot without harm. The reality has been each package has failed to fully meet all
of the needs of every community and has come short of providing what is best
for the nation.
It is because of this that we ask you to join us and other partners on May 18, 2020
show your support by contacting your senators to support these efforts.
For a day of action to stand together and demand that:
The Federal Government provide funds to states to improve election
administration and upgrade voting systems that comply with the CDC
standard regarding COVID-19;
The Federal Government create minimum standards for states to follow in
several key areas of election administration to ensure full and safe voter
participation such as an extended early voting period and vote-by-mail;
and,
The Federal Government, through the Election Assistance Commission,
must serve as a clearinghouse for election administration information that
complies with the health standards to ensure safe and full voter
participation.
Make our voice heard in Congress. Together we can protect the health of our
communities but also the democracy that we depend upon.
Thank you for your support.