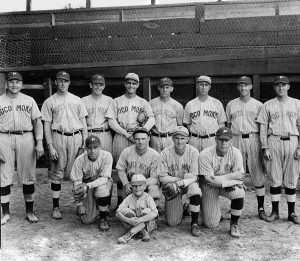 SALISBURY, MD—Salisbury University's Edward H. Nabb Research Center for Delmarva History and Culture hosts an Eastern Shore baseball panel discussion 6 p.m. Thursday, May 16, in the Patricia R. Guerrieri Academic Commons Assembly Hall.
Panelists include former Eastern Shore community league players Kirkland Hall and Teddy Evans, as well as community historian Donald Davidson.
The event is made possible as part of a competitive grant from the National Endowment for the Humanities' Common Heritage Program, received by the center to chronicle the history of Eastern Shore baseball leagues of the mid-20th century.
The 18-month project will allow the Nabb Center to create a digital archive of materials held by many people throughout the region, giving researchers an opportunity to view historical photos, programs, scorecards and more while still allowing the original owners to keep their family treasures related to the teams for which their fathers, grandfathers and others once played.
The Eastern Shore Baseball Hall of Fame, located at Arthur W. Perdue Stadium, is a partner in the project, which will culminate with an SU exhibit on mid-century Eastern Shore baseball leagues next spring.
Admission to the discussion is free and the public is invited. For more information call 410-543-6312 or visit the Nabb Center website at www.salisbury.edu/libraries/nabb/index.aspx.