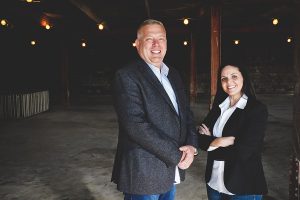 SALISBURY, MARYLAND – 5 NOVEMBER 2019 – The Principals of NAI Coastal are pleased to announce the company's expansion and branch office opening in Easton, Maryland. Doug James and Bridgit Frost bring over three decades of combined commercial real estate experience to the team and will spearhead the company's mid-shore growth.
"NAI Coastal is made up of a group of local professionals specifically chosen for their unique knowledge and dedication to the Delmarva region. The addition of Doug and Bridgit to our team is not only exciting for us as a group, but also for our clients who now have yet another resource to utilize within our company" said Principal Chris Davis.
James and Frost provide a full suite of commercial real estate advisory support and services to the Delmarva region, but have knowledge and expertise that extend across the country. The team notably represents the University of Maryland Medical System Shore Regional Health (UM SRH) and has facilitated multiple acquisitions, dispositions and lease negotiations on their behalf.
James will be joining the brokerage as Senior Advisor specializing in commercial sales and leasing, development, design and construction management and investment strategizing. Throughout the course of his career, he has developed a thorough understanding of the healthcare industry's regulatory and compliance standards and is an expert in medical office building development. James is known for his long-standing business relationships and ability to navigate local government based on profound regional knowledge.
"Having already brokered many deals with the current team, joining NAI Coastal was the natural choice," explained James. "Bringing together such a dynamic and experienced group is the spark that will ignite the torch to build a world class brokerage that brings innovative approaches and solutions to our clients.
Also making the transition to NAI Coastal is Advisor and Easton Branch Manager Bridgit Frost. Frost is a Certified Project Manager and leverages over 17 years of experience with a Big Four accounting firm. Her knowledge of the commercial real estate market is backed by specialization in financial and data analysis, budgeting and forecasting.
"We are so excited to join the NAI Coastal team and synergize with such an innovative group of professionals. Having access to the NAI Global platform will allow us to offer more comprehensive services to our clients to help maximize their success," said Frost.
NAI Coastal's Easton Office is located at 404 Marvel Court in Easton, Maryland and can be reached at 410-202-2648 or by email: doug@naicoastal.com / bridgit@naicoastal.com.
NAI Coastal is a full-service commercial brokerage headquartered at 108 Pine Bluff Road in Salisbury, Maryland with a branch office in Easton, Maryland. The team of ten advisors have comprehensive market knowledge and an unwavering commitment to the Delmarva region. In addition to brokerage and development, NAI Coastal rounds out their service offerings with consulting, which covers leasing, assemblage, acquisition and sale and investment advising. For more information please visit www.naicoastal.com or call 410-543-5115.
About NAI Global
NAI Global is a leading global commercial real estate brokerage firm. NAI Global offices are leaders in their local markets and work in unison to provide clients with exceptional solutions to their commercial real estate needs. NAI Global has more than 375 offices strategically located throughout North America, Latin America and the Caribbean, Europe, Africa and Asia Pacific, with 6,000 local market professionals, managing in excess of 1.15 billion square feet of property and facilities. Annually, NAI Global completes in excess of $20 billion in commercial real estate transactions throughout the world.
NAI Global provides a complete range of corporate and institutional real estate services, including brokerage and leasing, property and facilities management, real estate investment and capital market services, due diligence, global supply chain and logistics consulting and related advisory services. To learn more, visit www.naiglobal.com or www.naiglobalnewslink.com.