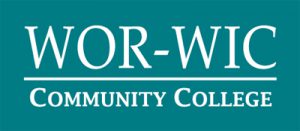 Russell W. Blake of Pocomoke City was recently named chairperson and Kimberly C. Gillis of Salisbury was named vice chair of the board of trustees at Wor-Wic Community College.
Blake, who was appointed to the board in 1996, served as chair from 2003-06 and 2013-15, and as vice chair from 2001-03, 2011-13 and 2018- 19. Blake retired as city manager of Pocomoke City after 40 years in the position. He received his bachelor's degree in civil engineering from the University of Michigan in Ann Arbor and his master's degree in business management from Western Michigan University in Kalamazoo.
Blake is a credentialed member of the International City Management Association (ICMA) and received the ICMA annual award for career excellence in 2015. He is a member and past president of the Pocomoke City Rotary Club and Maryland City/County Management Association, and a member of the board of directors of the Mar-Va Theater Performing Arts Center and the Delmarva Discovery Center and Museum in Pocomoke City, Furnace Town Living Heritage Village in Snow Hill, the McCready Foundation and the Lower Eastern Shore Heritage Council. Blake is a past member of Wor-Wic's foundation and past chairperson of the college's local advisory council. He has served on the Critical Area Commission for the Chesapeake and Atlantic Coastal Bays and the board of directors of the Pocomoke City Chamber of Commerce. He also was a member of the Leadership Maryland Class of 2002.
Gillis was appointed to the board in 2017. She is a senior associate and business development manager at the Becker Morgan Group in Salisbury, where she has been employed since 1999.
She holds a bachelor of science degree from Salisbury University and currently serves as vice president of the Salisbury University Alumni Association. A member of the Shore Leadership Class of 2013, Gillis is also a member of the Greater Ocean City Chamber of Commerce, the Ocean City Hotel-Motel-Restaurant Association and the Education Awards Committee of the Community Foundation of the Eastern Shore. She has served as chair of the Salisbury Area Chamber of Commerce and as vice chair of the College, Career and Life Readiness subcommittee of the City of Salisbury's Youth Development Advisory Council.
In addition to Blake and Gillis, Wor-Wic board of trustee members include William H. Kerbin of Pocomoke City, Lorraine Purnell-Ayers of Snow Hill, and Andrew W. Booth, Morgan Hazel and Martin T. Neat of Salisbury.