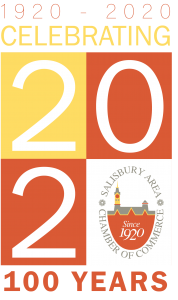 Celebrating the 100th Anniversary of the Salisbury Area Chamber of Commerce
In 2020, the Salisbury Area Chamber of Commerce is celebrating 100 years as the preeminent business advocacy organization on the Lower Shore!
The new century brings about new changes. In the coming weeks, the Chamber office will relocate to 200 East Church Street in Downtown Salisbury.
"We are excited to be a part of the renaissance of Salisbury," says Bill Chambers, SACC President & CEO.
"In the 100 years of service to the businesses and Lower Shore community, the Chamber has witnessed the tremendous growth and success of our agricultural, manufacturing, tourism, education, health care, and high-tech business sectors. The next 100 years are poised to be equally amazing for the region."
"We'd like to extend a special thank you to the men and women who have served as Chamber leaders and innovators in growing SACC into the respected institution that it has become."
Mark your calendars! There are multiple upcoming celebrations set to commemorate the 100th Anniversary of the Chamber.
There will be a special 100th Anniversary Annual Awards Banquet on April 30, 2020, at the Wicomico Youth and Civic Center.
Join fellow members on September 19, 2020, for the Salisbury Area Chamber Centennial Cruise, a remarkable cruise party aboard the 100-foot yacht, Catherine Marie.
On October 7, 2020, the Salisbury Area Chamber of Commerce, Perdue Farms, and Rotary will host a special joint luncheon at the Wicomico Youth and Civic Center to celebrate all three entities' 100th anniversaries.
There will also be an Open House & Ribbon Cutting at the new Chamber office, date to be announced.
Sponsorship opportunities and ticket information for these historical events will be announced at www.salisburyarea.com in Spring 2020.
For more information contact the Chamber at 410.749.0144.