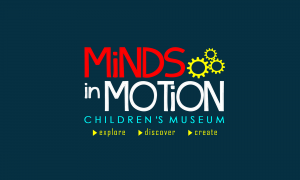 Education on the Eastern Shore has become the focal point of governmental and community efforts in the past few years in light of the consistent lack of funding. Just weeks ago, Governor Hogan during his luncheon with the Salisbury Area Chamber of Commerce, recognized Maryland's investment of more than 215 million dollars towards Lower Shore projects, including construction funding for West Salisbury Elementary School, Parkside High School, and East Salisbury Elementary School.
Executive Directors Vira Ogburn, Debra Giles, and Heather Charlton, in effort to aid the slowly progressing system are in the process of opening a nonprofit children's museum in Salisbury, Maryland called "Minds in Motion." This museum would be a permanent addition to the community serving both children and families from all over the Delmarva Peninsula.
"Our mission is to provide children a place to explore, discover, and create through interactive exhibits and educational programs, igniting curiosity and fostering a lifetime love of learning," said Ogburn. The children's museum would feature exhibits that simulate daily life skills, expose children to future occupations and provide an abundance of educational experiences.
Ogburn believes thousands of students from area schools would greatly benefit the project on the Delmarva Peninsula, including elementary and middle public schools in Wicomico, Somerset, Talbot, Dorchester and Worcester counties. The museum would also benefit multiple private schools, day care facilities and homeschool programs.
"Through a children's museum, we want to provide a place where children become dedicated life-long learners," she said, "It will allow children and their families a place which will in time contribute to them competing in global and local career markets. Ultimately, we want these children to give back to their communities for generations to come."
Currently, the directors are looking for outstanding leaders in business, the private sector, and local community who believe in their mission and would be willing to join the founding Board of Directors Committee. They are seeking individuals who consistently and generously have been committed to supporting philanthropic projects and endeavors in the Delmarva region.
"There is a desperate need in our community for quality educational curriculums to build children's background knowledge, develop curiosity, foster creativity, and test ideas and solutions," Ogburn said, "We look forward to having committee members personally involved in fostering, encouraging, and supporting our children through the children's museum."
The directors will hold a brief interest meeting on Tuesday, August 8, 2017 at 6 p.m. in the Wicomico County Board of Education Conference Room. The Board of Ed. Is located at 2424 Northgate Drive, Salisbury, Md. If you wish to attend, they request you RSVP to info@mindsinmotionsby.org by Friday, July 21, 2017. For more information about the museum, visit mindsinmotionsby.org.