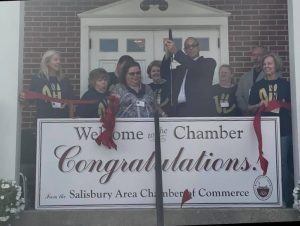 By Cathy Diekmann
Did you know that faith communities are integral members of the Salisbury Area Chamber of Commerce? They are! New Lyfe Church recently joined the SACC and celebrated the occasion with a ribbon cutting on September 21, 2021.
On one level, faith communities are like any business – setting and meeting goals, dealing with budget, personnel, and facility issues, and abiding by local and regional mandates. On another level, faith communities engage in the Chamber mission by ministering to the wellbeing of the broader community.
New Lyfe Church Lead Pastor, Reverend Howard Travers describes it like this, "In the midst of this pandemic, there has been such a loss of hope, a great amount of discouragement and despair. So now more than ever, it's important for faith partners to step up and support businesses, business owners, and employees as an available resource." He added, "These are scary times for a lot of business owners and employees. We want them to feel assured that they are not alone. We are here to be a source of inspiration and hope."
Travers, a native of Salisbury involved in ministry since 1987, felt led to start a new Assemblies of God Church in Salisbury. With the help of team members and partners who contributed to the effort, the church held its first service on September 19, 2021.  "All the pieces came together very easily and we're very thankful for that," Travers noted.
The creative spelling of "Lyfe" with a y is purposeful. Travers explained "We believe that Christ offers us a new life that is different from our current life. It's abundant, overflowing with benefits and blessings."  He added, "I often joke that it's like saying you can have cake, or you can have Smith Island cake."
In addition to businesses, New Lyfe Church offers support to the community in other ways. Travers serves as the Bereavement Care Manager for Coastal Hospice and, with Witness International, oversees a transitional living ministry for individuals who are newly released from incarceration. He partners with Wicomico County Drug Court to support people in recovery.
A faith partner with both North Salisbury Elementary School and Wicomico County Night School, New Lyfe Church members served breakfast for North Salisbury's returning teachers and staff during their first day back to school. The church is collecting school uniforms, other clothing items and providing food for families in need.
"We love our community and are blessed to be a blessing, Travers concluded.
New Lyfe Church is located at 1308 Westchester Street in Salisbury, a shared worship space with Cristo Vive Hispanic Church. They welcome all to join their Sunday worship service on Sundays at 10:00 AM. Visit their Facebook page at https://www.facebook.com/New-Lyfe-Church-106648464743036