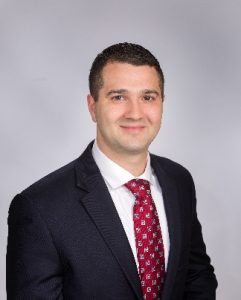 (Salisbury, MD) Peninsula Orthopaedic Associates (POA) is pleased to announce the addition of Sports Medicine Fellow and Orthopaedic Surgeon, Dr. Taylor Wiley, to our team of orthopaedic specialists. Dr. Wiley joins our Sports Medicine Team alongside, Dr. Thomas Brandon, and Dr. Jason Scopp who have treated patients in the Delmarva Peninsula Region for over 45 years combined.
Dr. Brandon shared, "Dr. Wiley's addition to our Sports Medicine team allows POA to further offer the most advanced and comprehensive treatment of sports injuries in the region."
Dr. Taylor Wiley completed his Bachelor of Science Degree at Providence College and his Medical Doctorate at New York Medical College. Dr. Wiley selected the University of Connecticut Health Center to complete his residency in Orthopaedic Surgery and recently completed a fellowship in Sports Medicine at Brown University.
Dr. Wiley has contributed to several publications including: "Acromioclavicular Joint Injury, Surgical Treatment: Open" as well as "Osteochondritis Dissecans of the Capitellum." Dr. Wiley was also recently awarded the 'West Point Sports Medicine Fellows' Specialty Day Research Award.'
We are excited Dr. Wiley has joined our practice to help serve the needs of our community, particularly in the areas of the shoulder, hip and knee that need proper diagnosis, customized treatment plans, and restored mobility. David Davies, POA CEO, says "We are thrilled to bring such talent to the Eastern Shore. With Dr. Wiley's addition, POA continues to deliver first-class patient care here locally, as well as provide greater accessibility for all your orthopaedic injuries and conditions, when you need it most."
About Peninsula Orthopaedic Associates
Peninsula Orthopaedic Associates is a multi-specialty orthopaedic practice that has been offering communities across the Delmarva Peninsula an expansive continuum of orthopaedic services since 1952. With offices in Berlin and Salisbury, Maryland and Millsboro and Seaford, Delaware, POA provides a broad spectrum of advanced orthopaedic treatments and diagnostic services including, foot and ankle, hand and elbow, hip and knee, shoulder, spine, sports medicine, joint replacement, joint preservation, and orthopaedic trauma care. POA is continuing to raise the bar of orthopaedic excellence with cutting edge clinical research trials and adding orthopaedic surgeons to elevate the level of care we provide. POA is also affiliated with the AAAHC accredited Deer Pointe Surgical Center and Performance Rehabilitation Center located in Salisbury, Maryland.