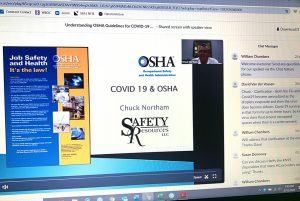 By Cathy Diekmann
Understanding how the Occupational Safety and Health Administration (OSHA) regulations apply to your workplace is a complex topic. The location, industry, size, and type of the workplace all matter. These intricacies were discussed on June 17, 2020, as Chuck Northam facilitated a Salisbury Area Chamber of Commerce (SACC) webinar entitled "Understanding OSHA Guidelines for COVID-19 Workplace Safety."
Northam is the Principal Consultant and Managing Partner of Safety Resources, LLC – a Maryland-based safety consulting firm specializing in workplace safety and OSHA compliance. He is experienced in all forms of OSHA compliance training and certification, citation, notification of penalties, and facilities inspection, among others.
"Many low hazard industries don't have any idea that OSHA applies to all places of employment. Any time you have one or more employees, OSHA regulations would kick in," Northam stated.
The OSHA entity that has oversight for a given workplace depends on the state in which a business is located. The Eastern Shore's unique tri-state geography includes five jurisdictions – federal and state. Some exceptions exist for city and federal entities within a given state. The Federal Agency Employee Safety Act has jurisdiction for the latter.
Northam's presentation covered topics including current OSHA guidelines, using N95 and other face coverings in the workplace, and the importance of COVID-19 safety policy and training.
There are no laws or regulations involving infectious diseases such as COVID-19. However, OSHA's General Duty Clause requires that all places of employment be free of recognized hazards that are likely to cause death or serious physical harm.
Northam explained, "Right now, OSHA is inundated with complaints. Workers may call in anonymously, to say 'I don't feel safe to go back to work because of COVID-19." Such complaints fall under OSHA's third inspection priority. OSHA follows up on these complaints with a Rapid Response letter to employers. Upon receipt, employers have five days to respond to the complaint.
What can employers do to protect their employees and the business? First and foremost, get informed about OSHA's guidelines, specific to your industry, for protecting workers from COVID-19. A multitude of these resources is available on the OSHA website, osha.gov. Northam recommends that employers print out these guidelines, post them a bulletin board, and ensure that all employees are familiar with those policies and procedures.
OSHA has recently updated their Enforcement Guidelines, which cover a wide variety of compliance issues, including disposable N95 filtering facepiece respirators, use of respiratory protection equipment, and employer's good faith efforts to comply with OSHA-mandated training, audits, assessments, and testing. These industry-specific guidelines are also available on OSHA's website.
There are many OSHA regulations related to the use of Personal Protective Equipment and N95 masks – filtering facepiece respirators. The regulations, fit requirements, and training differ depending on whether the employee is required or voluntarily chooses to use specific equipment.
OSHA does not require workplaces to develop a COVID-19 Pandemic Plan, but Northam believes it is a good idea. Such a plan could be as simple as a list of expectations for a workplace, but Northam encourages employers to evaluate their company's needs and develop a written plan to educate all workers on COVID-19 policy and procedures. Include topics such as returning to work, disinfection, social distancing, and face-covering use. Then, train all employees and have employees sign a document which states they understand the policies and procedures. This is important for the OSHA General Duty Clause and liability issues.
Northam concluded, "No matter what you do in the workplace as far as OSHA, it's always better if you have a document that states, 'We covered this with our employees.'"
A Presentation by Chuck Northam, Principal Consultant and Managing Partner of Safety Resources, LLC