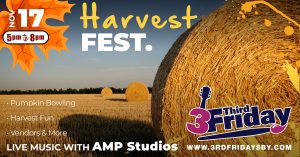 Salisbury, MD – Visit Downtown Salisbury for the November 3rd Friday event and enjoy a Harvest Festival theme Friday, Nov. 17.
The free event will run from 5-8 p.m., and it's the last outdoor 3rd Friday of the 2023 season. Artists and crafters will be set up along Main and Division streets, and there will be live music by AMP – the Academy of Music Performance. This month's 3rd Friday will also feature a Downtown Salisbury Chili Cook-Off, in which attendees can do a blind taste test and vote on their favorites at the 3rd Friday booth. The Mad Hatter Café, Market Street Inn, MoJo's and Roadie Joe's will compete for the "Best Chili" Trophy.
Attendees can also try their hand at pumpkin bowling. The Wicomico Public Library will be on-site with its Mobile Learning Lab, offering fun educational activities. Fenix Youth Project will be out with green ribbons and glow sticks for National Runaway Prevention Month, and the organization is also hosting a green door decorating contest during November.
While Downtown, visit "The Beacon of Hope," a traveling monument of Harriet Tubman created by Wesley Wofford that will be located near the Government Office Building from Nov. 15-Jan. 31.
Stop by local businesses during 3rd Friday, too. Lurking Class Skate Shop will host an all-ages night of live music with GGR & Friends for a $10 cover; doors open at 6 p.m. The Salisbury Wicomico Arts Council will present "Classics for a Cause" at St. Peter's Episcopal Church at 7 p.m.; tickets are on sale at getswac.org.
Visit "Abstract Expressions," a members' show, in the Main Gallery of the Salisbury Art Space during 3rd Friday, along with Erica L. Forsythe's "Find Your Moment of Zen" exhibit in the Robinson Gallery.
St. Peter's Episcopal Church will also host a Holiday Bazaar and Marketplace with food, treats, a hot chocolate bar and a silent auction during 3rd Friday from 5-8 p.m. and the next day, Nov. 18, from 9 a.m.-1 p.m.
The City of Salisbury is also preparing to host a new Holiday Lights event on Saturday, Dec. 2, from 4-6:30 p.m. See the annual lighting of the tree in Downtown Salisbury, enjoy entertainment, shop at a holiday market, participate in gingerbread house decorating, and more.
There is no charge for artists to participate in 3rd Friday as vendors, but advance registration is appreciated. For more information, visit 3rdFridaySby.com.