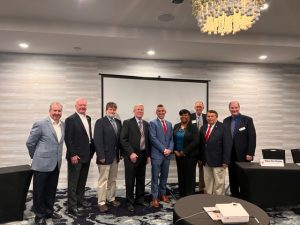 The SACC October General Membership Luncheon featured the Annual "Mayors of Delmarva" Forum. This event was held on Tuesday, October 20, 2022, at the Cambria Hotel in Ocean City, Maryland.
Seven Mayors representing municipalities across Maryland and Delaware participated in this year's Forum. The roster of Mayors included Salisbury, MD Mayor Jake Day; Ocean City, MD Mayor Rick Meehan; Dover, Delaware Mayor Robin Christiansen; Rehoboth Beach, Delaware Mayor Stan Mills; Crisfield, MD Mayor Darlene Taylor; Cambridge, MD Mayor Stephen Rideout; and Princess Anne, MD Town Commissioner President Joseph Gardner.
The Mayors addressed a number of issues and opportunities during the forum. The epidemic of Fentanyl was a topic commented on by the Mayors. Cambridge Mayor Rideout lamented that "Pushing back on this scourge starts with early interventions and an effective juvenile justice system." Salisbury Mayor Jake Day put the Fentanyl issues more bluntly, "Fentanyl is one of the most existential threats facing the entire United States."
The continuing economic backlash resulting from the Covid-19 pandemic was the next topic addressed by the Mayors. Princess Anne Town Commissioner President Gardner spoke about some of the economic damage his town endured. "Prior to COVID, we had a thriving Main Street, we now have some vacancies, and the anchor that was the historic Washington Inn is now closed. We are hopeful of attracting new ownership and returning our town to pre-pandemic conditions."
City Mayor Rick Meehan said Ocean City business owners adapted and used the pandemic to change how they do business. "Ocean City is in the midst of unveiling our rebranding, we did not cut back on promotion and marketing; we expanded it during this tough economic time."
Crisfield Mayor Taylor touted her town's assets, "We are working on building a menu of town amenities to attract visitation, which declined during the pandemic. Crisfield already has great assets, we are close to the UMES, SU, and Wor-Wic campuses, NASA Wallops Island, and we have great fishing! People are visiting and wanting to live in Crisfield."
Economic Development opportunities were also addressed by the Mayors. Dover Mayor Robin Christianson commented, "The heart of Dover is our downtown; if our heart is healthy, all of Dover will be healthy. We are focused on transforming the downtown of Dover."
Salisbury Mayor Day added, "The Salisbury is growing, 1,700  new residential units are under construction or already permitted."
Rehoboth Beach Mayor Stan Mills spoke to his town's progress, "We made accommodations to assist our restaurants and retailers in helping them financially. While we have altered some of these, the town is committed to growing our commercial tax base."
All of the Mayors agreed that affordable housing continues to be a significant challenge in trying to attract and retain quality talent for their respective business communities.
The Annual "Mayors of Delmarva" luncheon will return next October. More information will be posted on the SACC website at salisburyarea.com.