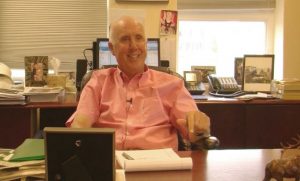 The Salisbury Area Chamber of Commerce is sending all of our well wishes and prayers the loved ones, friends, and colleagues of Tom Draper. He was a truly profound man with an amazing career and family; he changed the face of media for the Eastern Shore and beyond. We thank you, Tom Draper, for all that you accomplished, your support for our Chamber endeavors, and the lives that you touched.
The man who built WBOC-TV in Salisbury, Maryland into one of the most dominant television stations in America has died from injuries sustained in a bicycle accident near his home in Delaware. Thomas H. Draper was 76.
Draper was struck by a pick-up truck Thursday morning while out for his daily bicycle ride. According to Delaware State Police, after calling 911, the driver stayed with Draper until help arrived. No charges have been filed in the accident. Draper was initially taken to Bayhealth Milford Memorial Hospital and then airlifted to the University of Maryland Shock Trauma Center in Baltimore where he underwent
surgery Thursday afternoon but did not survive the night.
"There are no words to express the profound grief the WBOC family feels at this time," says Craig Jahelka, President, Draper Media. "Tom was a broadcast pioneer, who said often those of us at WBOC have a moral obligation to serve the people of Delmarva. Our thoughts and prayers are now with his family."
Jahelka says Draper had just celebrated his 50th anniversary in broadcasting on Sunday, September 3rd. His broadcasting career began with the purchase of his first radio station WTHD, which bore his initials as its call letters, in 1967. Five years later Draper signed on WAFL-FM in Milford, Delaware. Draper's broadcasting career would take a big turn in the late 1970s when WBOC's then-owner, the A.S. Abel Company – which also owned the Sun papers in Baltimore – put the station up for sale. But Draper was outbid twice.
Draper and his group of investors were asked to make a third bid for WBOC-TV and its two radio stations. After the deal was done, Draper sold of the two radio stations to focus on TV. Draper would go on to buy and sell other TV stations in Kansas and Texas. But WBOC always remained his first love.
"Tom wanted to serve the people of Delmarva with high quality news and information," says Jahelka. "He and his family continually poured money back into the station. And that passion was rewarded as WBOC-TV grew to become one of the most dominant local stations in the nation. He was one of the few remaining single, independent owners nationwide who truly cared about his viewers and community and invested in WBOC. It's why WBOC is the smallest market station in the country to fly a news gathering helicopter, operate three bureaus, produce both local news and a daily local talk show as well as a local outdoors show, and broadcast from a multi-million dollar NewsPlex."
Using digital technology Draper's expanded his CBS affiliate to include FOX and Antenna TV on sub-channels. He launched a separate digital division, and in 2015 got back to his roots with the purchase of a 50,000 watt radio station, WBOC-FM.
Draper was poised to announce the launch of Delmarva's newest television station, Telemundo Delmarva.
"But there was more to Tom than just broadcasting. He loved his family and friends. He loved bike riding, hunting, farming and politics," Jahelka says. Draper worked in the Milton, Delaware office but was often seen visiting the main station in Salisbury, Md.
"I have been so honored to work for Tom. He was not only our leader, but he was also our friend" says Laura Baker, Chief Operating Officer of Draper Holdings, parent company of WBOC-TV. "Many people know him as the owner of WBOC, but he was also passionate about farming and land preservation. He was unique in that way— owning farms and broadcast stations."
Baker says his legacy will live on through his children, who with others, form the Board of Directors for Draper Holdings.
"Tom was adamant that WBOC live on past him," says Baker. "Although we are a private company, he did have a Board of Directors and made sure all four of his kids knew about the business. All of them have worked at WBOC over the years, and they share his dedication."
Baker says daughters Molly Draper Russell and Mariah Calgione both worked in News; Bill Draper worked in Creative Services and Hank Draper worked in Sales. Mrs. Russell is now co-President of Draper Holdings, and Chairman of the Board, and Hank is a Vice-President of Loblolly, L.L.C, the farming and land division of the company.
"I am confident they will honor their father and his vision for WBOC and for Delmarva," Baker added.