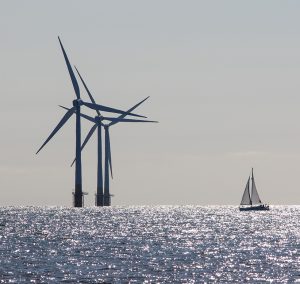 Ørsted honored for 'outstanding leadership' in advancing U.S. offshore wind industry.
Boston – Ørsted, the global leader in offshore wind energy, received the 2021 Ventus Offshore Wind Leadership award from the Business Network for Offshore Wind (BNOW).
"I know I speak for our entire company in saying we are honored to receive this recognition from our peers and colleagues across the industry," said David Hardy, CEO of Ørsted Offshore North America. "We're proud to be America's leading offshore wind energy company. More than building wind farms that combat climate change, we know we have an expanded role to build a robust U.S. supply chain and train a next-generation workforce that can power a growing domestic industry and compete on the international market."
The Ventus Offshore Wind Leadership award recognizes Ørsted for "outstanding leadership benefiting industry growth" in the U.S. and for making a "substantial contribution to the betterment of the offshore wind industry." BNOW presented the award to Ørsted at the network's inaugural Ventus Awards Gala, held on November 18 in Washington, D.C.
"Congratulations to Ørsted for winning the 2021 Ventus Offshore Wind Leadership award," said Liz Burdock, President and CEO of the Business Network for Offshore Wind. "It is an innovative and dedicated leader in offshore wind development that has successfully competed to secure major construction contracts across in the U.S. and globally. Behind that success is a skillful track record of strengthening coastal resilience, engaging key stakeholders, and including women- and minority-owned businesses as vital partners."
With six U.S. offshore wind farms in development, Ørsted has been driving the creation of a comprehensive U.S. offshore wind industry. The company has invested hundreds of millions of dollars to help add offshore wind capabilities to U.S. manufacturing firms and to attract experienced international companies to build facilities in the U.S. These investments range from steel fabrication for turbine components to cable construction to support transmission.
In 2020, Ørsted signed a national framework with North America's Building Trades Unions, an agreement that has become the industry standard and demonstrates Ørsted's commitment to utilize a labor workforce and help train U.S. workers in a new industry. Helping to boost America's maritime industry, Ørsted, with industry partners, has invested hundreds of millions of dollars to revitalize port communities in Rhode Island, Connecticut, New York, New Jersey and Maryland to support the industry and charter the first Jones Act-qualified offshore wind installation vessel in the U.S.
Ørsted's supply chain extends beyond the Northeast where offshore wind power will initially be utilized. This network includes South Carolina, Texas and Nebraska, to name a few examples, and a BNOW report conclude that U.S. offshore wind will create economic opportunity in 44 states.
About Ørsted Offshore North America 
The Ørsted vision is a world that runs entirely on green energy. Ørsted ranks as the world's most sustainable energy company in Corporate Knights' 2021 Global 100 index of the most sustainable corporations and is recognized on the CDP Climate Change A List as a global leader on climate action.
In the United States, Ørsted operates the Block Island Wind Farm, America's first offshore wind farm, and constructed the two-turbine Coastal Virginia Offshore Wind pilot project – the first turbines to be installed in federal waters. Ørsted has secured over 4,000 megawatts of additional capacity through six projects in the Northeast and Mid-Atlantic. Ørsted Offshore's North American business is jointly headquartered in Boston, Massachusetts and Providence, Rhode Island and employs more than 250 people. To learn more visit us.orsted.com or follow us on Facebook, Instagram and Twitter (@OrstedUS).