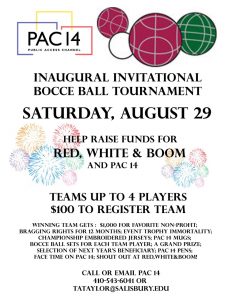 America's Independence Day Celebration of 2020 in Salisbury, Maryland was cancelled due to the COVID-19 pandemic, but not the American Spirit. On Saturday, August 29th 2020, the Public Access Channel, PAC 14 will be holding a benefit Bocce Ball Tournament for the local fireworks celebration, RED WHITE & BOOM. RED WHITE & BOOM was prepared to launch on July 4th, but the decree to keep social distancing, meant the beloved celebration would have to wait until next year.
PAC 14 has documented the firework celebration every year for nearly a decade. The program and display always raised the morale of the community—a community has always been very supportive of both non-profits.
By partnering up with PAC 14, RED WHITE & BOOM is working towards an even bigger display and celebration for 2021. Bocce Ball is a game of lawn bowling and is a great way to network and socialize while helping these two great causes—PAC 14 and RED WHITE & BOOM.
For more information on registering a team, or the sponsorship opportunities, contact Tom Taylor at PAC 14 at tataylor@salisbury.edu or call 410-543-6041.