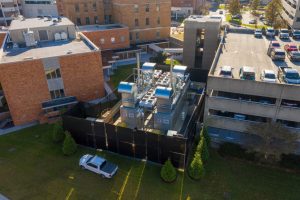 Salisbury, MD (June 19, 2020) – Peninsula Regional Medical Center announces a 63% annual reduction in carbon dioxide emissions, resulting from the installation of a carbon-cutting combined heat and power system (CHP)
Peninsula Regional Medical Center (PRMC) partnered with Unison Energy (www.unisonenergy.com) to design and install a 3.2 MW CHP system which provides the hospital with reliable electricity and useful thermal energy in a single, integrated system. CHP's primary differentiator from traditional power generation technology is its utilization of waste heat to provide useful heating or cooling. This increases the CHP system's total efficiency upwards of 70% compared to 40% for an average utility power plant in Maryland. The CHP's waste heat offsets boiler usage at the facility as well, thereby reducing the hospital's carbon footprint.
Last year alone, PRMC reduced its carbon dioxide emissions by almost 17,000 tons, representing a 63% carbon reduction compared to the Maryland electricity grid. Since the system's installation in 2017, their carbon savings is almost 50,000 tons. According to the EPA's greenhouse gas calculator, this translates to taking 10,760 cars off Maryland roads for one year or the atmospheric carbon dioxide removed by over 823,000 trees over 10 years.
Peninsula Regional Medical Center's CHP system was one of only three hospitals in the U.S. to receive a 2019 Energy Project of the Year award, a highly regarded prize from the Association of Energy Engineers (AEE). As one of the largest health care providers in the area, PRMC is committed to not only the health of its patients but the greater health of the environment.
# # #
About Unison Energy
Unison Energy provides turnkey microgrid solutions that helps clients achieve their sustainability objectives while keeping them at 100% operability. Unison owns, installs, and operates systems under an Energy Services Agreement model with zero capital expenditures from their clients, while providing resilient power during weather events and power outages, reducing client's energy spend, and lowering their carbon footprint. For more information, please visit www.unisonenergy.com.