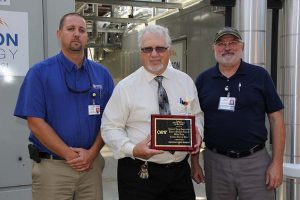 Energy Project of the Year
Peninsula Regional Medical Center's Combined Heat and Power System (CHP), which went online at the hospital in 2017, was the recipient recently of an international energy industry award by the Association of Energy Engineers (AEE), a nonprofit professional society of over 18,000 members.
PRMC was the recipient of the "Energy Project of the Year" award in Region 2, which includes the states of Maryland, Alabama, Florida, Georgia, Mississippi, North Carolina, South Carolina, Tennessee, West Virginia, the District of Columbia and the US Territory of Puerto Rico.
"AEE includes 15 regions worldwide, however only five of those regions are located in the United States. Of the ninety awards given, only three were presented to hospitals," said Tom Anderson, Executive Director of Facilities and Properties at Peninsula Regional Medical Center.
The CHP system, an enhanced energy conservation project, utilized a $5.5 million Maryland Energy Administration grant to create a power plant on the campus of the Salisbury, MD hospital that is making operations more efficient and environmentally friendly.  To date, it has saved PRMC almost $500,000 in energy consumption costs.
The goal is to have the plant eventually offset approximately 80% of Peninsula Regional's annual energy consumption, and cut their carbon footprint drastically, with an annual CO2 reduction of more than 50%, using natural gas supplied by Chesapeake Utilities.
PRMC's system generates electricity and useful thermal energy in a single, integrated system.  In traditional fossil fuel power plants, two-thirds of the energy used to generate electricity is wasted in the form of heat discharged to the atmosphere as well as through electricity transmission. By combining electricity generation and waste heat capture, CHP systems can operate at levels as high as 80 percent efficiency.
PRMC's new system is composed of natural gas fired reciprocating internal combustion engines, and recovered waste heat is being used to provide space heating and domestic hot water. "Using the thermal energy from the CHP, our Layfield Tower hot water boilers rarely actuate," added Anderson.
The award was presented to Anderson and PRMC at the AEE's Regional Awards Ceremony in conjunction with the organization's World Energy Conference in Washington, DC.