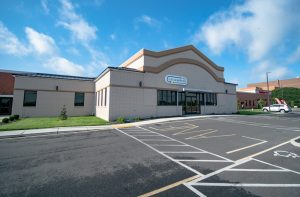 SALISBURY, MARYLAND – December 8, 2020 – The Principals of Gillis Gilkerson (GGI) are pleased to announce the recent completion of two development projects local to Salisbury, Maryland. As a direct result of the construction and development firm's ability to creatively source property solutions and think outside of the box, both Peninsula Wellness (also known as Peninsula Alternative Health) and Valucentric (formerly The Trice Group) now occupy freshly redeveloped, customized office and retail space within Salisbury's city limits.
"Getting both of these clients to the finish line and open for business with minimal disruptions was a win-win," said Gillis Gilkerson Principal, Bradley Gillis. "We value the trust that Peninsula Wellness and Valucentric have in our team and are grateful for the partnerships we have built with both companies."
In April 2020, local appraisal firm, Valucentric, relocated from their long-term home on Mount Hermon Road to the newly redeveloped 600 Glen Avenue property, leaving behind a vacancy that was soon filled by Peninsula Wellness. Joining other tenants such as Pure Fitness, Peninsula Orthopedic Associates, CubeSmart and South Moon Under, Valucentric now occupies roughly 4,500 square feet of premier professional office space.
Gillis Gilkerson's scope of work for the Valucentric build included select demolition, new interior framing, insulation and drywall, acoustical ceilings, and HVAC, plumbing and electrical work. Vice President Tyler Barnes and Superintendent Don Brady worked alongside Valucentric to meet various specifications including preservation of the building's industrial style with exposed trusses and duct work.
The construction and development company delivered the turnkey, custom fit-out as part of the final redevelopment phase of 600 Glen Avenue. In just two years, Gillis Gilkerson transformed the 160,000 square foot vacant manufacturing facility into a highly frequented community asset. Upon final buildout completion for all tenants thus far, Gillis Gilkerson has achieved complete client satisfaction.
"I have had a great working relationship with Gillis Gilkerson for over thirty years," said Lee Trice, Founder and Principal of Valucentric. "The process was painless, and they provided a seamless transition. We navigated different challenges together and they did a fantastic job."
In mid-September 2020, Peninsula Wellness opened the doors to their new holistic, alternative wellness campus located at 1003 Mount Hermon Road, former home of Valucentric. Prior to the redevelopment of their current space, the company occupied +/- 2,400 square feet on Snow Hill Road. Upon learning of their growth and plans for service expansion, Gillis Gilkerson's development team offered up a unique solution allowing Peninsula Wellness the flexibility to fully design a building to suit their specific needs.
In their new location, Peninsula Wellness gains roughly 8,000 square feet. With the added space, they have expanded their product and service lines to include a retail storefront for the general public, educational events and programs, and onsite medical practitioners. Hours of operation and details surrounding Peninsula Wellness' products and services can be found on their website, www.peninsulamd.com.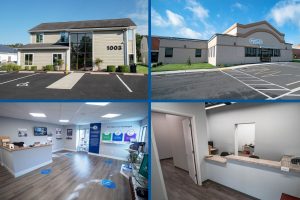 Led by Vice President Tyler Barnes, Gillis Gilkerson's construction team completed all interior and exterior renovations to the Mount Hermon Road property. Despite COVID-related challenges, GGI efficiently transitioned the building from a traditional office to an aesthetically designed medical campus.
"Our business faced a multitude of challenges that were based not only upon the industry we're in, but also the extreme growth we've experienced over the last thirty-six months," said Anthony Darby, Chief Executive Officer of Peninsula Alternative Health. "Joey Gilkerson and the Gillis Gilkerson team were solution oriented and able to address our challenges head-on. Our new space turned out fantastic. Our patients are thrilled!"
About Gillis Gilkerson
In its 37th year of building and real estate development on Delmarva, award-winning Gillis Gilkerson has built a reputation as one of the most trusted and stable construction management and general contracting firms on the Peninsula. From new commercial construction to renovation, the company's construction managers offer broad and deep experience in diverse industries such as medical, industrial, manufacturing, hotels, multi-family housing, houses of worship, restaurants, retail, schools and more. Its full-service real estate development expertise offers custom solutions for land purchase, building program development, turnkey project management, obtaining permits and approvals, property management, property marketing, purchase, lease, and lease/purchase options. The team works in conjunction with architects, government planners, engineers, surveyors, inspectors, contractors, and leasing agents to manage the development process from concept to completion.