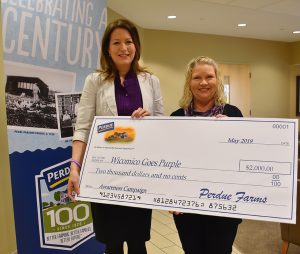 Stephanie Willey, Local Sales Manager from Comcast Spotlight and Project Chair for the 2019 Wicomico Goes Purple initiative, accepts a check for two-thousand dollars from Perdue Farms,  Hollie Seaton, Perdue Farms Senior Manager of Engagement and Inclusion to kick start this important initiative for Wicomico County.
Wicomico Goes Purple and partners like Perdue Farms, will focus attention on the opioid crisis and the dangers of substance abuse through efforts including prevention, treatment, and recovery.
The kick off ceremony for Wicomico Goes Purple will take place pregame, on August 31st at the Shorebirds stadium. Game time on August 31st is set for 7:00PM.
For more information visit www.wicomicogoespurple.com.