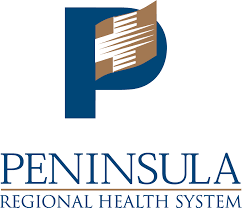 Peninsula Regional Health System (PRHS) of Salisbury, MD entered into agreements with Nanticoke Health Services in Seaford, DE and McCready Health in Crisfield, MD to create an integrated healthcare system to enhance and expand world-class care for the entire Delmarva Peninsula. Stronger partnerships guarantee a superior provision of care at the right place and the right time. This new collaboration, which will be finalized by early 2020, will result in a larger, more comprehensive health system combining experiences, people, best quality and safety practices and a shared passion and dedication for helping people.
A significant component of that is establishing leadership at the health system level to ensure the new system operates as effectively and efficiently as possible across all care sites.
Recently, Steve Leonard, Ph.D., MBA, FACHE, President/CEO of PRHS, announced the promotions of Debra Sheets, DNP, NEA-BC, CPHQ, CSSBB to Vice President of Organizational Effectiveness, and Scott Phillips, BS, MBA, to PRHS's Vice President of Supply Chain and Support Services.  Sheets has been with Peninsula Regional Medical Center and PRHS since 2008.  Phillips has been with the organization for the last nine years.
"As the system continues to evolve, we look forward to Deb and Scott extending their expertise and support beyond PRMC to now include Nanticoke in their respective areas. It will be important that the system maintains extremely high quality while looking for ways to improve operations and reduce cost," added Leonard.  "I look forward to each of these individuals having a lasting impact as we work through the integration."
Sheets holds a BS in Nursing from Penn State University, a Master's of Nursing Administration from UCLA and her Doctorate in Nursing Practice from the University of Alabama.  She's also a Certified Lean Six Sigma Black Belt, a Certified Professional in Healthcare Quality and a Malcolm Baldrige Examiner.  In her new role, she will have system-wide responsibility for the divisions of performance improvement, risk management, Joint Commission, infection prevention and service excellence.
Phillips, who has his Bachelor's in Finance from the University of Baltimore and a Master's of Business Administration (MBA) from Penn State, will have system-wide responsibilities for the divisions of purchasing/contracting, supply chain, materials management, biomedical engineering, food and nutrition, environmental services, facilities, patient transport, linen service, mail services and security.  Phillips is a member of the PRMC Foundation Board, and has previously served on the United Way of the Lower Eastern Shore Board of Directors. He's currently a member of the United Way's Community Impact Committee.  He was the 2004 United Way Volunteer of the Year for Worcester County. He's also an adjunct faculty member at the Salisbury University Perdue School of Business.
Both Sheets and Phillips will be responsible for the integration of these divisions during the transition period as PRHS builds a new regional health system.