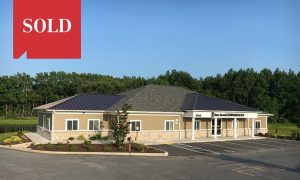 BERLIN, MARYLAND – JANUARY 7, 2020 – Advisor Christian Phillips recently brokered the sale of two medical investment properties within Berlin Main Place. The fully leased buildings total +/- 13,700 square feet and are occupied by Anne Arundel Dermatology, Peninsula Nephrology, CoreLife of Delmarva and Acadia Counseling and Wellness.
"We had a great experience working with Christian on our recent purchase," said buyer Tony Zhang. "The NAI Coastal team was very effective in managing our due diligence process and helped us to execute a smooth transaction. We look forward to continuing our fruitful relationship with NAI Coastal as we build out our east coast footprint."
After years of involvement with NAI Coastal's Gillis Gilkerson team, Phillips is able to offer his clients unique insight into the process of commercial redevelopment and construction. Phillips' alignment also gives him access to some of the shore's top medical investment portfolios allowing him to specialize in investment advising. For more information on this transaction or other income producing opportunities, contact Christian Phillips at 410-543-5115 or christian@naicoastal.com.
NAI Coastal is a full-service commercial brokerage headquartered at 108 Pine Bluff Road in Salisbury, Maryland with a branch office in Easton, Maryland. The team of ten advisors have comprehensive market knowledge and an unwavering commitment to the Delmarva region. In addition to brokerage and development, NAI Coastal rounds out their service offerings with consulting, which covers leasing, assemblage, acquisition and sale and investment advising. For more information please visit www.naicoastal.com or call 410-543-5115.
About NAI Global
NAI Global is a leading global commercial real estate brokerage firm. NAI Global offices are leaders in their local markets and work in unison to provide clients with exceptional solutions to their commercial real estate needs. NAI Global has more than 375 offices strategically located throughout North America, Latin America and the Caribbean, Europe, Africa and Asia Pacific, with 6,000 local market professionals, managing in excess of 1.15 billion square feet of property and facilities. Annually, NAI Global completes in excess of $20 billion in commercial real estate transactions throughout the world.
NAI Global provides a complete range of corporate and institutional real estate services, including brokerage and leasing, property and facilities management, real estate investment and capital market services, due diligence, global supply chain and logistics consulting and related advisory services. To learn more, visit www.naiglobal.com or www.naiglobalnewslink.com.