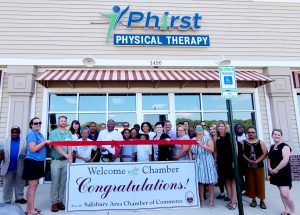 Too much yard work have you in pain?  Stop by Phirst Physical Therapy for ultimate relief! 
The Salisbury Area Chamber of Commerce welcomed Phirst Physical Therapy with an official Ribbon Cutting on July 19th.
Guests were welcomed by owner, Dr. Derrick Briddell, PT, who has over 27 years of experience in sports, orthopedics, neurological, musculoskeletal, spine, geriatrics and pediatrics therapy.   He completed a B.S. in Physical Therapy at the University of Maryland Easter Shore, and received his M.S. in Management/Healthcare Administration from the University of Maryland – University College. His Post Professional Doctor of Science in Physical Therapy is from the University of Maryland at Baltimore School of Medicine.
A very emotional Dr. Briddell, thanked everyone for attending this ribbon cutting as he shared that they put a lot of hard work and efforts into opening this location.
"I am a proud product of Maryland. I grew up on the Western Shore, but my family is here on the Eastern Shore," stated Briddell.  "I left to live in North Carolina, but after the pandemic hit, I wanted to come back and give back to my community.  If I can make it, anyone can make it."
Mayor Jacob Day presented Dr. Briddell with a certificate of recognition for the grand opening of Phirst Physical Therapy and presented an official citation from the House of Delegates, signed by Delegate Sheree Sample-Hughes.
Dr. Briddell performed on a patient a demo for their deep tissue laser therapy, which uses a focused light to stimulate a process called photobiomodulation, which increases cellular metabolism and decreases pain and inflammation, thus accelerating the healing process. And the results of relieve were noticed after 2 ½ minutes!
Phirst Physical Therapy is a local, therapist-owned practice focused not only on patient wellness but also patient education. Treating pain, injuries and providing post-op rehab takes more than treatment plans. It takes individual attention and patient education.   They also treat athlete's bumps, bruises, and pains after training, games, and activities.  Major plans accepted: Medicare, MD Medicaid, Highmark DE, Blue Cross & Blue Shield, United Healthcare/Optum, Aetna and Cigna.
Open Monday – Friday from 8am-5pm.  For more information contact Dr. Derrick Briddell at 443-365-2729, 1496 Still Meadow Blvd, Salisbury, MD.  For appointments visit: www.phirstpt.com.