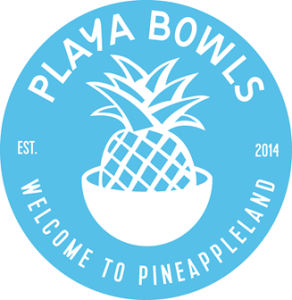 Playa Bowls is excited to announce a new FREE Catered Business Lunch Contest, to be held at the 1012 S. Salisbury Blvd. location.
The contest is open to all businesses of 25 employees or less.
To enter the contest, local business representatives can simply visit the restaurant, purchase an item from the menu, and leave a business card in the fishbowl. You can return as often as desired, thus increasing the chances of winning.
One winner will be drawn on December 15th and you need not be present to win. The winner will be contacted to plan for the best time and day for free lunch to be delivered. Winners will be recognized on Playa Bowls social media and photographs will be taken for promotional purposes.
About Playa Bowls
Founded in 2014 by Jersey Shore natives and avid surfers Robert Giuliani and Abby Taylor, Playa Bowls serves bowls, smoothies, juices, and oatmeal topped with a wide variety of fresh fruit.  Their menu items are highly customizable, include plant-based proteins, and offer "superfoods" rich in antioxidants, vitamins, and fiber such as acai, pitaya, and chia seeds. According to their website, the company is committed to environmental sustainability and the community-building power of strong local businesses.
Salisbury native Tony Martina owns a Playa Bowls in Easton and opened a Salisbury location in Spring 2021.
Martina's daughters introduced him to Playa Bowls when he was struggling to find foods that fit his dietary need to avoid red meat, pork, artificial ingredients, and preservatives. "Everything at Playa Bowls is fresh," Martina says enthusiastically.  "There is nothing artificial added and since I started eating it, I feel so much better."
Martina felt so strongly about the Playa Bowls concept he decided to join the franchise. He asserts, "Why not invest in something you really believe in?"
Playa Bowls Salisbury is located at 1012 South Salisbury Blvd. Salisbury, MD 21801. Hours are 8 am – 9 pm every day.