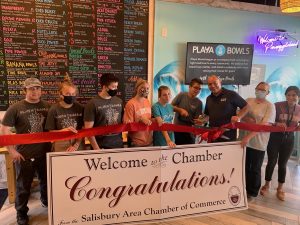 By Cathy Diekmann
 "Eat the rainbow" is a catchy nutrition tip that encourage people to eat a diversity of colorful foods that optimize health. (No. Skittles™ don't count.) However, getting at least five servings of naturally colored foods such as berries, kale, mango, and kiwi in one's diet every day is not that easy – unless you are eating a Playa Bowls.
Founded in 2014 by Jersey Shore natives and avid surfers Robert Giuliani and Abby Taylor, Playa Bowls serves bowls, smoothies, juices, and oatmeal topped with a wide variety of fresh fruit.  Their menu items are highly customizable, include plant-based proteins, and offer "superfoods" rich in antioxidants, vitamins, and fiber such as acai, pitaya, and chia seeds. According to their website, the company is committed to environmental sustainability and the community-building power of strong local businesses.
Salisbury native Tony Martina owns a Playa Bowls in Easton and opened a Salisbury location on April 23, 2021. Their grand opening was celebrated with a Salisbury Area Chamber of Commerce ribbon cutting on June 23, 2021.
Martina's daughters introduced him to Playa Bowls when he was struggling to find foods that fit his dietary need to avoid red meat, pork, artificial ingredients, and preservatives. "Everything at Playa Bowls is fresh," Martina says enthusiastically.  "There is nothing artificial added and since I started eating it, I feel so much better."
Martina felt so strongly about the Playa Bowls concept he decided to join the franchise. He asserts, "Why not invest in something you really believe in?"
He is also pleased to return to his hometown to add value to the community by opening his store in a long-vacant unit that once housed a Baskin-Robbins Ice Cream Parlor. Playa Bowls employs two full-time managers and about 15 part-time employees in Salisbury and the same in Easton.
Martina eats at Playa Bowls at least once a day and insists that he never tires of it because there are so many options. "Honestly, there is something different for every meal and every diet, including keto, gluten free, dairy free, and vegan." He adds, "If you are health conscious and looking for some tasty options, come check us out."
Playa Bowls is located at 1012 S. Salisbury Blvd. Salisbury, MD and 28601 Marlboro Avenue Easton, MD.