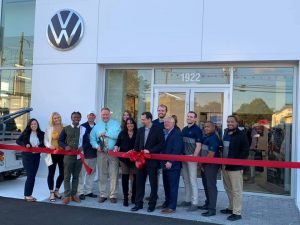 by Cathy Diekmann
There's a "new kid on the block," that is, automobile row, Route 13 in Salisbury. Pohanka Volkswagen of Salisbury opened their new, state of the art dealership August 1, 2020 and introduced their new digs to the business community by hosting a Business After Hours on October 8, 2020.
The sleek showroom featuring modern lines and open-air options made for a pleasant space where guests could gather, socially distanced, and enjoy light fare from Vittles, mini cupcakes from Cake Art, and Bordeleau wines.
Dan Fitzgerald, Pohanka Volkswagen General Manager, shared impressive news regarding Volkswagen's commitment to the Zero-Emission vehicle infrastructure, nationally and locally. Fitzgerald explained, "Volkswagen has invested $10 billion in an open, public, electrification network across the United States of America." This increases range confidence of those who drive electric vehicles as 96% of the population now live within 120 miles of an Electrify America charger.
Volkswagen has also designed and is developing four electrified cars, two of which will be rolled out in 2021. The ID.4, an SUV, is due out in the spring. The Microbus, sporting a nostalgic VW bus design, will come out in the fall. "Both of these cars will have 300 plus miles per charge and we are the very first dealership in the U. S. ready to support them," said Fitzgerald.
What about today? There are some great cars on the lot now including new and pre-owned Jettas, Passats, and Golfs, plus two cars new to the market in 2018, the VW Atlas and Tiguan. "If you are in the market for a medium or large SUV, it's worth checking these vehicles out," Fitzgerald asserts. "They continue to grab increased market share each year because of their competitive price and great legroom in the second- and third-row seating."
Being a member of the Salisbury Area Chamber of Commerce affords you opportunities to promote your business and networking at events like Business After Hours. The Chamber offers so much more! The continual challenge to succeed in a business climate impacted by Covid-19 requires business advocacy, resources, and mutual support. Your Salisbury Area Chamber of Commerce has your back. We work for all businesses and look forward to working with those who choose to join us. We are stronger together!
To learn about the value of Chamber membership, check out the SACC website at www.salisburyare.com or call 410-749-0144.