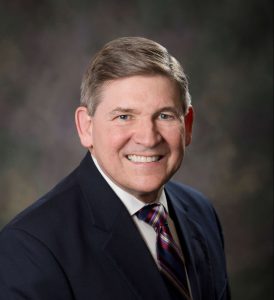 Dr. Ray Hoy, president of Wor-Wic Community College, announced Tuesday that he plans to retire at the end of the current fiscal year on Friday, June 30.
Hoy has led the college for 23 years and is one of only two presidents in the college's history.
"It has truly been an honor and privilege to serve as president of Wor-Wic as we grew to meet the education and training needs of the citizens and businesses of the Lower Eastern Shore," Hoy said at a meeting of all employees. "Wor-Wic's impact goes beyond the lives of the students and graduates who gained skills, licensures, certifications and degrees. Certainly, these were life-altering experiences for our students, but the impact of Wor-Wic and our students' success extends to everyone in the community who has benefited from the trained workforce that the college has produced. I am very proud to have been a part of this indispensable responsibility and look forward to witnessing the continued growth of the institution."
"Wor-Wic has experienced tremendous growth and success under the steadfast and trusted leadership of Dr. Hoy," said Kimberly C. Gillis, chairperson of the board of trustees. "Leading the college for more than 22 years, he has been at the helm during many great achievements, and has helped navigate many challenges — including the COVID-19 pandemic — and he always led with an unwavering commitment to the students, faculty and staff. Dr. Hoy's dedication to fulfilling the college's mission and strengthening the community through education and training has undoubtedly helped improve the quality of life on the Lower Eastern Shore. To say that we will miss Dr. Hoy is quite an understatement, but we are incredibly grateful for his many years of service and proud of the legacy he will leave at Wor-Wic Community College."
Hoy was named president by Wor-Wic's board of trustees in 2000. During his tenure, Wor-Wic grew along with its community's needs, adding many academic and career programs as well as new buildings to house them. Hoy oversaw enrollment growth and a 132% increase in the number of graduates. He was instrumental in efforts to make community college free, including establishing the Wicomico Economic Impact Scholarship and the Somerset Economic Impact Scholarship, both precursors to the state of Maryland's Community College Promise Scholarship. The college has become an economic force in the community under Hoy, with Wor-Wic making a $106.6 million economic impact and supporting 425 full- and part-time employees. The college's Foundation resources have grown from $1.9 million to over $33 million.
Hoy oversaw the creation of new programs in communications, construction, culinary arts, electro-mechanical technologies, elementary and secondary education transfer, emergency medical services and fire science, forensic science, HVACR, metal fabrication, occupational therapy assistant, physical therapist assistant, social media, STEM, truck driver training and welding. He also helped bring about dual enrollment programs with local high schools, and the expansion of programs vital to the community such as nursing and radiologic technology.
The campus grew also with Hoy at the helm, with new facilities including Guerrieri Hall, housing the Eastern Shore Criminal Justice Academy; the Hazel Center with food service operations and student services; the Jordan Center with child care services; Fulton-Owen Hall, a workforce development center; Shockley Hall, an allied health building; and the soon-to-be completed Patricia and Alan Guerrieri Technology Center, which will add 50,000 square feet of technology classrooms, industrial laboratories and more.
Hoy came to Wor-Wic after 24 years of increasing administrative roles at Chesapeake College in Wye Mills, where he also earned an associate degree. He earned a bachelor's degree from Washington College in Chestertown, a master's in higher education administration from Johns Hopkins University in Baltimore, a master's in business management and supervision from Central Michigan University in Mount Pleasant, a juris doctorate from the University of Baltimore School of Law and a doctorate in innovation and leadership from Wilmington University in New Castle, Del.
Hoy has also been active in the community and his field, serving as Middle States Association for Colleges and Secondary Schools Accreditation Team Chair five times and serving on the board of Maryland Association of Community Colleges, the College Board Middle States Regional Council, and the board of directors for TidalHealth (PRMC), the Salisbury Area Chamber of Commerce, the Maryland Hospital Association and TEDCO (Maryland Technology Development Corporation). He was part of many Lower Eastern Shore groups such as the Tri-County Council Healthcare Committee, Wicomico County Visioning Committee, Worcester County Visioning Committee, the Greater Salisbury Committee and the Salisbury Mayor's Roundtable.
For his service, Hoy earned recognitions including the 2021 Chief Executive Officer Award – Northeast Region from the Association of Community College Trustees; the 2021 Hall of Fame Award from the Salisbury Area Chamber of Commerce, as well as its Visionary Leadership Award in 2014 and Chamber Award in 2011; the Salisbury University Franklin Perdue Leadership Award; the Tri-County Council First Citizenship Award; and the Tri-County District of the Del-Mar-Va Council of the Boy Scouts of America distinguished citizen award.
A search for Hoy's successor will begin immediately.